Israel urges Palestinian civilians in southern Gaza to 'evacuate' – but doesn't suggest safe area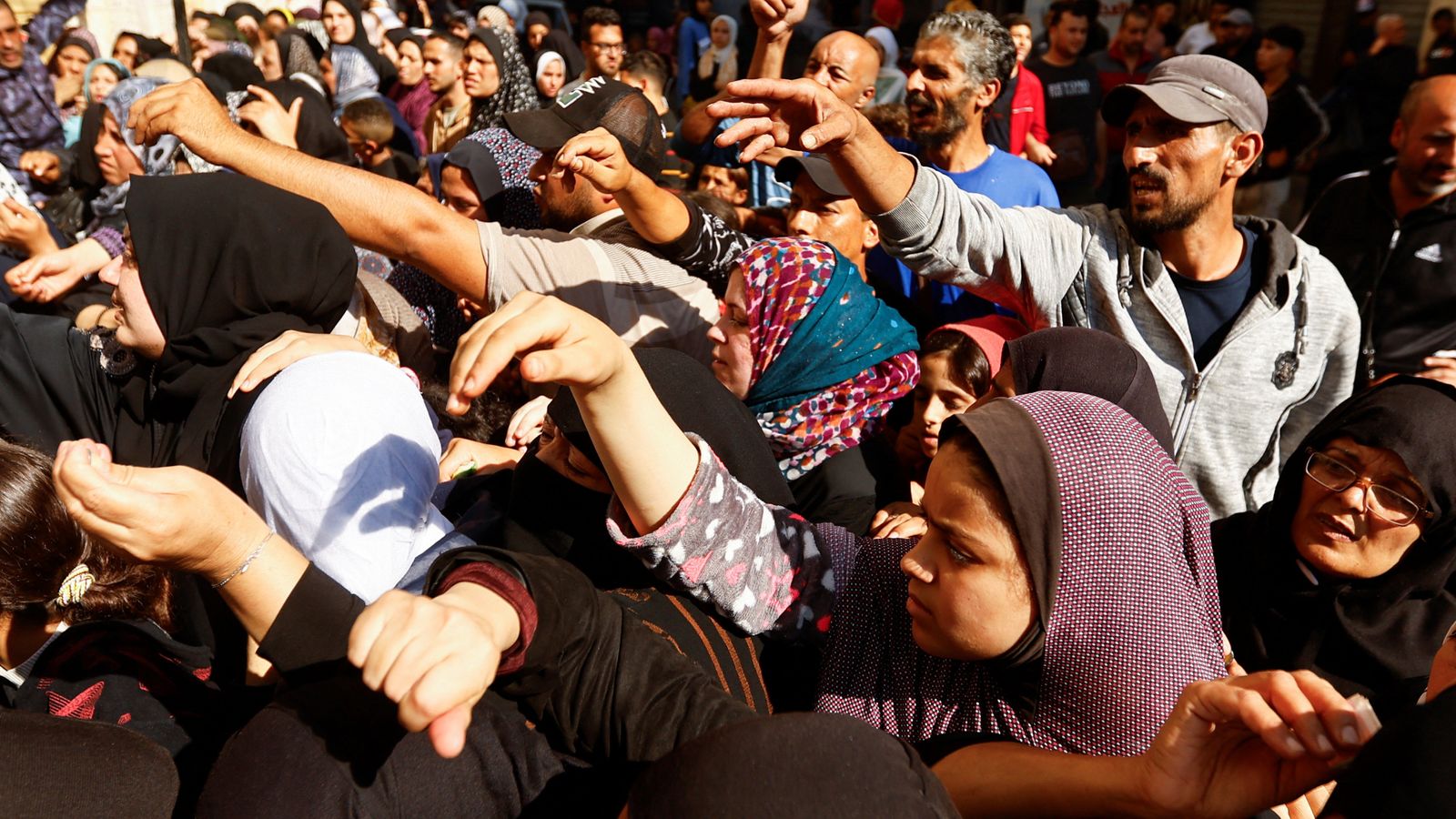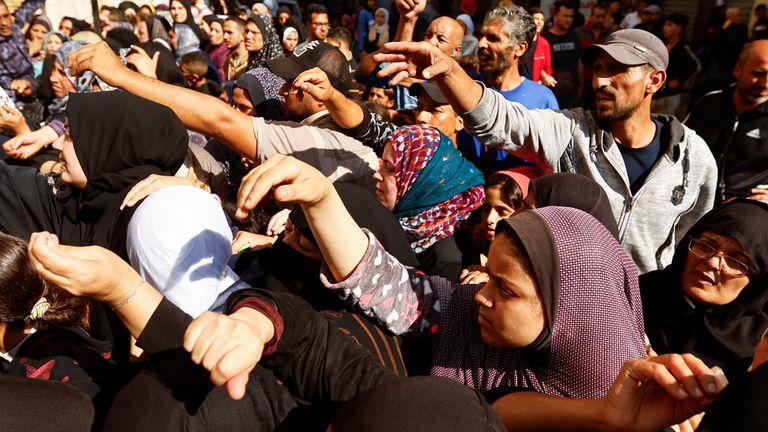 Fears over the safety of Palestinian civilians are growing as Israel suggests its bombardment of Gaza will shift to southern areas, having destroyed swathes of the north.
Leaflets have been dropped by the Israeli military in some areas of the south, near Khan Younis, warning residents to leave as Israel declared the "next stage" of their offensive has begun.
Hundreds of thousands of Palestinians are reportedly already displaced in southern parts since Israel's campaign focused largely in the north, which came after similar leafleting.
Israel-Gaza latest: Satellite images show huge crowds trying to flee to southern Gaza
Sky News has obtained an image of one of the flyers, which tells locals they "must evacuate" and "go to known shelters" – but it does not specify any shelters or suggest a safe area.
Challenged by Sky News on where the people of Khan Younis should go, Mark Regev, an adviser to Israel's Prime Minister Benjamin Netanyahu, said Gazans will "know exactly what to do".
"I think the people of Gaza who will read those leaflets know exactly what to do," he said. "And the same cynicism was expressed when we leafleted the north.
"And yet, the overwhelming majority of the population heeded our advice and did leave areas of combat and did move south, and therefore were saved from being caught in the crossfire between Israel and Hamas.
"And I believe you'll see the same thing now."
In other developments:
• UN aid deliveries to Gaza were suspended on Friday due to shortages of fuel and a communications shut down;
• The UN's World Food Programme said civilians faced the "immediate possibility of starvation" due to the lack of supplies;
• Gaza's Hamas-run health ministry says more than 12,000 people are confirmed dead, with 5,000 of them children and many others trapped under rubble;
• Israel says its military has found the bodies of two hostages in Gaza in as many days
Mr Regev added there are areas to the west of Khan Younis where Israeli forces are not expecting heavy fighting, but he admitted it is "not a perfect solution".
Israel would do its "utmost to protect the civilian population", he said, though Mr Netanyahu admitted on Thursday the country's attempts to minimise civilians casualties were "not successful".
Movements towards the south have reportedly been disrupted by ongoing attacks, with bombing also reported in southern areas.
Satellite images show a mass of people, seemingly moving south, appearing to be obstructed.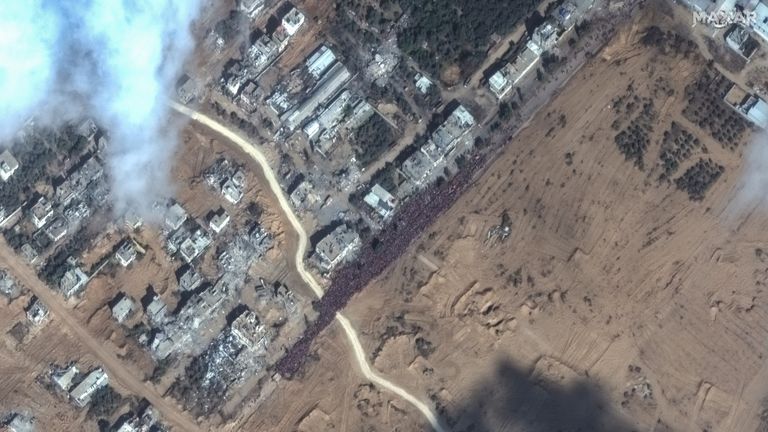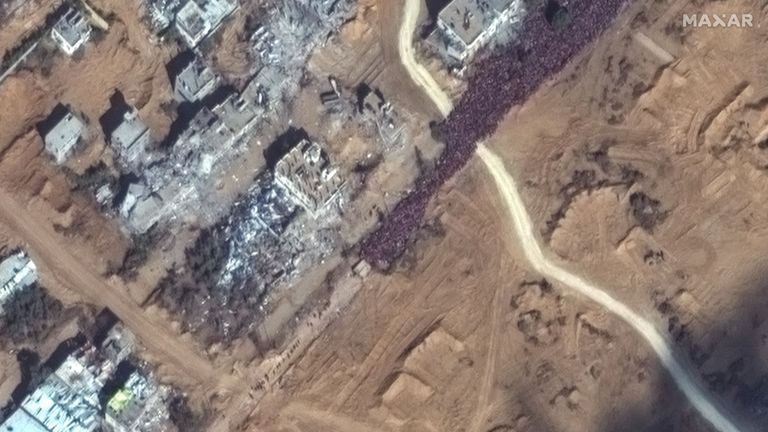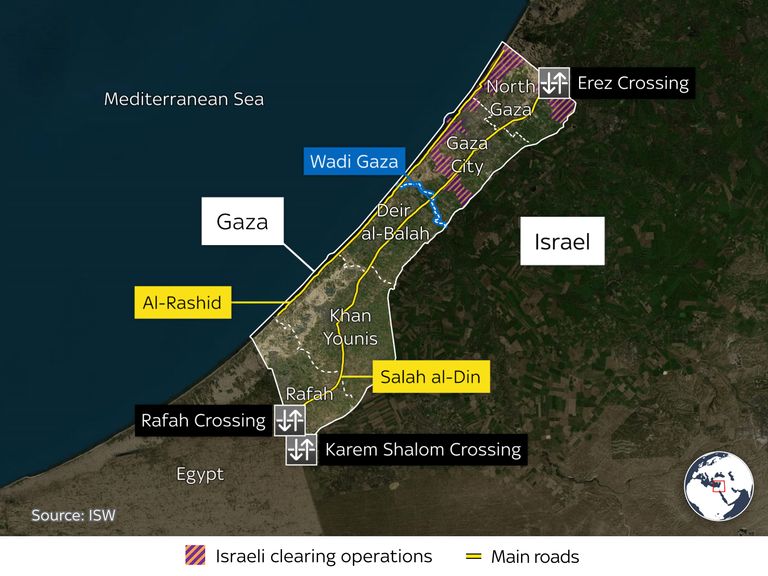 While southern parts of the Gaza Strip brace for a new wave of attacks in the coming days, Israel's focus this week has largely been on al Shifa hospital, which is the territory's largest.
Human Rights Watch warned hospitals have special protections under the laws of war and only lose that status "if it can be shown that harmful acts have been carried out from the premises".
Israel has long maintained the hospital sits above a vast underground bunker housing a Hamas command headquarters, an assertion backed by the US.
After two days of searching the premises – which were raided earlier this week – Israeli forces said they found a vehicle with weapons, and a tunnel shaft.
Read more:
Israel now occupies Gaza having completely destroyed it – so what does it do now?
Inside Gaza's 'humanitarian corridors': Sky News witnesses hundreds moving south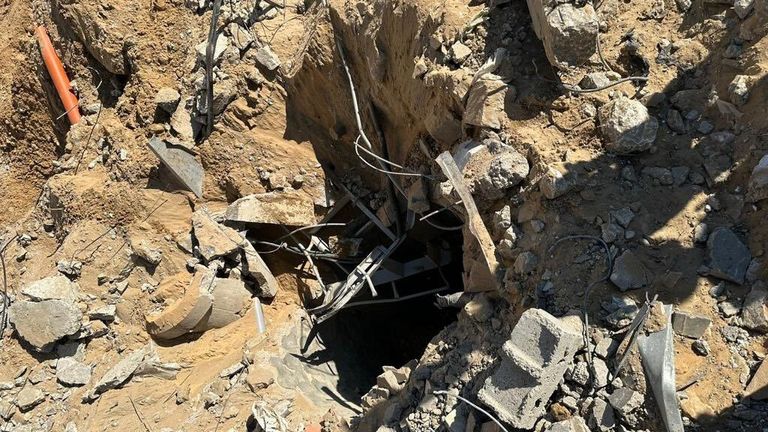 Hospital staff have denied Hamas has a command centre under the hospital, and so far no conclusive evidence has been offered by Israel.
Gaza's Hamas-run health ministry claimed on Thursday 26 out of 35 hospitals in the territory are no longer running, while the remaining nine are only partly functioning.
Click to subscribe to the Sky News Daily wherever you get your podcasts
Israel has repeatedly been warned by allies to ensure the safety of civilians, while aid agencies have criticised the country's humanitarian response.
Hamas claims more than 12,000 people have been killed since the attack on Gaza began, while Israel says 1,200 were killed when the militants attacked the south of the country on 7 October.
Israel also says Hamas took 242 captives back to Gaza as hostages – with its military announcing two bodies have been found in the past two days.