Libya flood damage revealed as 10,000 remain missing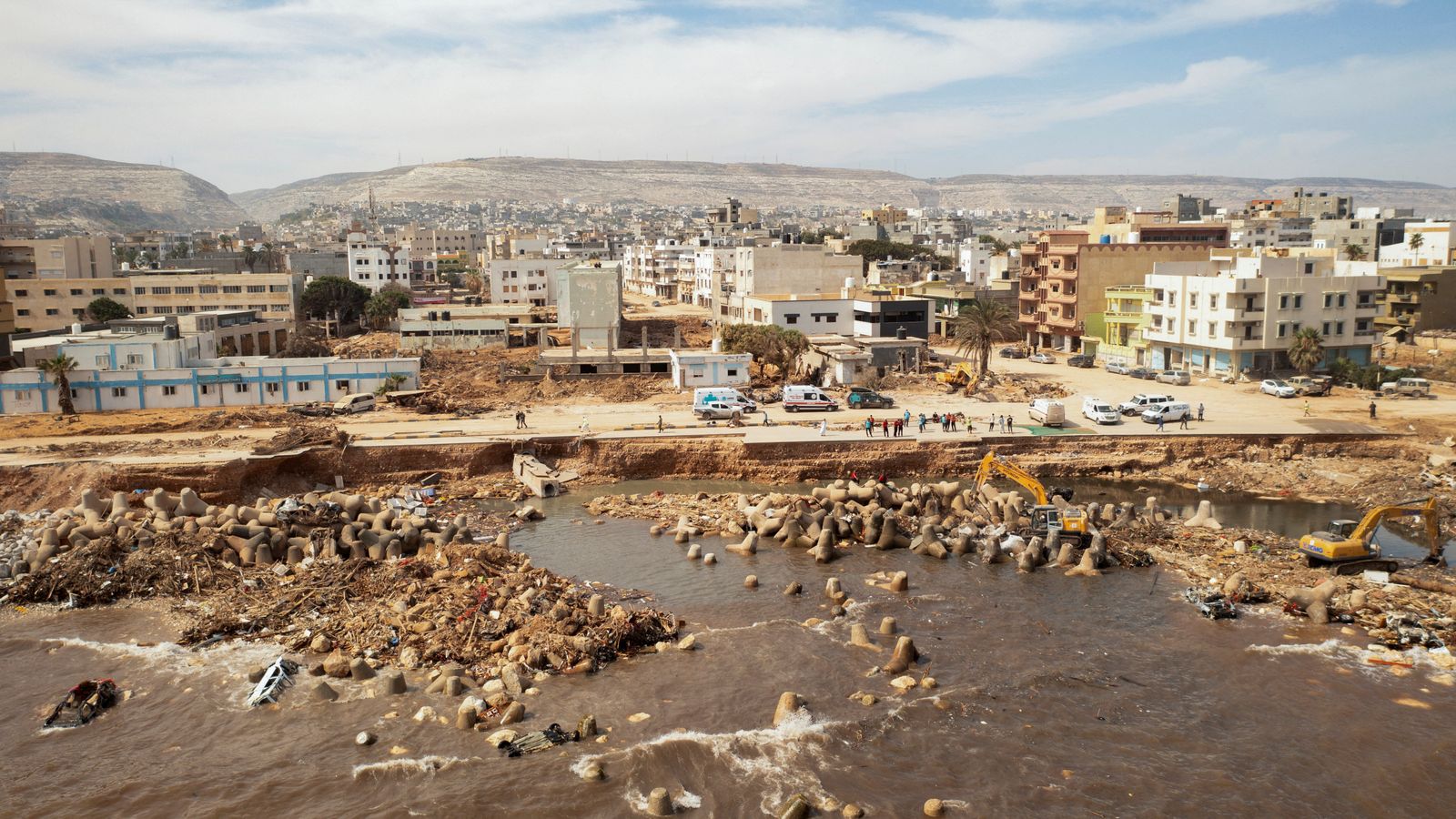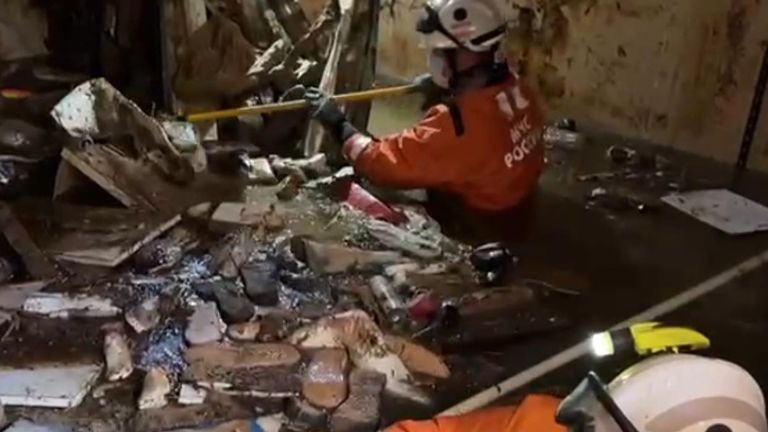 Almost 900 buildings in Libya's coastal city of Derna were completely destroyed in last week's catastrophic flooding, officials have revealed.
A tally by the country's government has found at least 891 structures had been totally demolished, while a further 211 buildings were partially damaged and almost 400 others were submerged in mud.
It means approximately a quarter of all buildings in the city were damaged in the flooding.
In Derna alone, at least 11,300 people died and a further 10,000 are missing, feared dead, according to latest estimates a week on from the disaster.
Rescuers search for bodies in flood water

Another 170 people were killed elsewhere in the country, and more than 40,000 people have been displaced, a UN report said.
It comes as rescue crews and health officials struggle to deal with the aftermath of the deluge.
Teams are still digging through mud and buildings looking for bodies and possible survivors – although hopes are fading.
Survivors are facing a dilemma over whether to stay in Derna despite a lack of fresh water.
Haider al-Saeih, head of Libya's centre for combating diseases, said at least 150 people had suffered from diarrhoea after drinking contaminated water. He urged residents to only drink bottled water, which is being shipped in as part of relief efforts.
Authorities also began fumigating areas of the city on Saturday amid fears over the spread of disease.
Vehicles were seen driving through its streets releasing smoke through funnels attached to the rear.
Read more:
Before and after pictures show devastation of Libya floods
Huge aid package including body bags arrives in Libya
Libya governance situation 'incredibly difficult'

Attempts to leave the area have been made more difficult because landmines from recent conflicts in the country were displaced by the flood waters.
Libya's general prosecutor, al-Sediq al-Sour, announced an official investigation into the collapse of two dams above the city last Sunday, which has been identified as a major factor in the extent of the devastation in the city.
Water from the reservoirs washed away many residential buildings in Derna and swept bodies out to sea.
Prosecutors will now investigate the collapse of the dams, which were built in the 1970s, as well as the allocation of maintenance funds.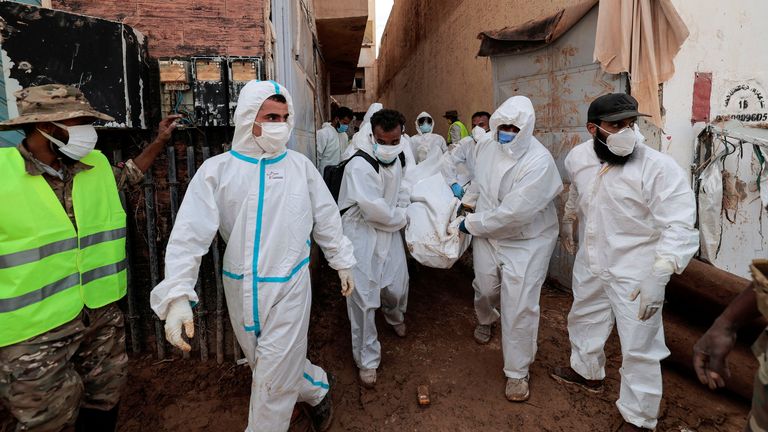 The UK's Foreign Secretary James Cleverly warned that the civil war in Libya had "broken the infrastructure" the UK would normally use to provide aid.
He said challenges in delivering help had been highlighted by Sky's Alex Crawford, who has been reporting on the situation from Derna.
Speaking to Sky's Sunday Morning with Trevor Phillips, Mr Cleverly said the UK had provided £1m worth of support, which included sending an emergency medical team.
Click to subscribe to the Sky News Daily wherever you get your podcasts
Mr Cleverly added: "But the governance situation in Libya makes it incredibly difficult. Essentially it is a divided country and, as Alex was saying, in other places the international effort can move more quickly.
"The civil war has, in many ways, broken the infrastructure that you would normally wish to deploy in a terrible, terrible situation like this."