Florida is 'Trump country' and it doesn't seem that any indictment is going to change that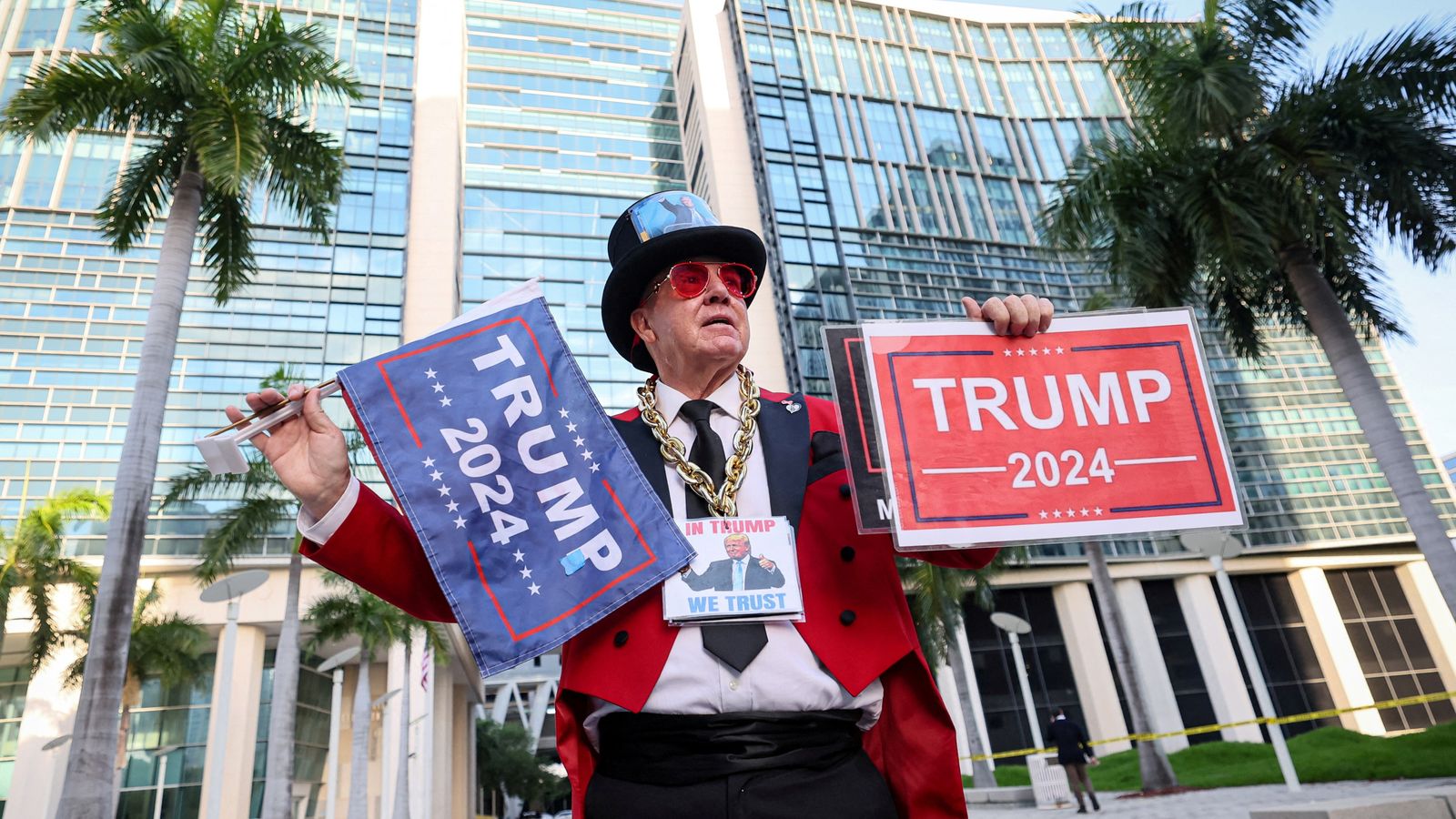 Some, perhaps, may not be aware, but the state of Florida is considered "Trump country".
The 45th president of the United States is wildly popular here.
As a simple measure of his favourability, look no further than the recent polls in the contest for the Republican Party's nomination in next year's presidential campaign.
Donald Trump's primary competitor happens to be the Governor of Florida, Ron DeSantis – but it is not looking like much of a contest at the moment.
A recent poll revealed that Trump had a whopping 34-point lead over his younger challenger.
However, there are people in the "Sunshine State" who will do what they can to avoid him. On the day when Trump was due to be dragged into a Miami courthouse by federal prosecutors, we found plenty of residents had gone to the beach.
Perhaps it was an act of escape, with thousands of pro-Trump supporters taking positions near the Wilke D Ferguson Jr Courthouse – and it may have been an act of escapism as well.
Joseph LaCroix told me that Trump's 37-count indictment would not change the way anyone feels.
"In a perfect world, it should, it would, but here we are," he said with a shrug.
Beachgoer Andrea Ray said she was astonished when she heard that the former president would be read his rights in a federal court.
"I am happy that he is being indicted for crimes, crimes that he has probably committed, but I just didn't think it was going to happen."
The prosecution of Trump has certainly shocked many in Florida. The state votes Republican and it votes for Donald Trump – and there are those who think the Biden administration is out to get him.
But on Miami Beach's Ocean Drive, people see things in a different way.
The world-famous Palace Drag Show was doing a booming trade, with hundreds of customers enjoying a boisterous show. The performers told us that the former president doesn't speak to – and hasn't spoken up – for them.
"What do you make of Donald Trump?" I asked drag performer, Kat Wilderness.
"I don't see him, no, unfortunately. We have someone who is against us, but we are not hurting anyone, we're about love, acceptance, we just want to live life the way that everyone wants to live their lives – fully. I don't see who you are talking about."
Read more:
Trump indictment 'shocking' and portrays him as a 'great threat' to US defence
Trump arrives in Miami for court hearing over classified documents
In Florida voters are divided on whether Trump should get another chance
Drag shows in Florida have been subject to Governor DeSantis' so-called "war-on-woke" with new legislation banning children from attending shows.
In proposals that have been vigorously opposed by LGBTQ+ activists, Donald Trump says he plans to pass laws banning gender-affirming care – like surgery and therapies – for minors nationwide.
I asked performer Akasha O'Hara Lords whether America in 2023 was a good place to be.
"You know, we're in a rocky stage, but if everyone votes, we will be fine in the end."
She may find it difficult to win meaningful backing in Florida. Ninety miles up the road, we heard pro-Trump firebrand and aspiring office-holder Kari Lake whip up a crowd of thousand or more conservatives "in the fight to save our country".
Lake, who lost the Arizona governor's race to her Democrat party opponent in 2022, told the audience to "drain their bank accounts" in an attempt to get Trump re-elected.
The former television journalist is touted by many as a possible running mate for Trump in the coming presidential election.
"Trump is a warrior, a warrior, he is Godzilla and (his opponents) are just tiny geckos running around," she said to uproarious applause.
Florida, it seems, is "Trumpland" – the place where the former president is still the king and a trip to the coast is not going to change that reality.