Vinicius Junior: Kylian Mbappe leads messages of support after Real Madrid star is left incensed by racist abuse from stands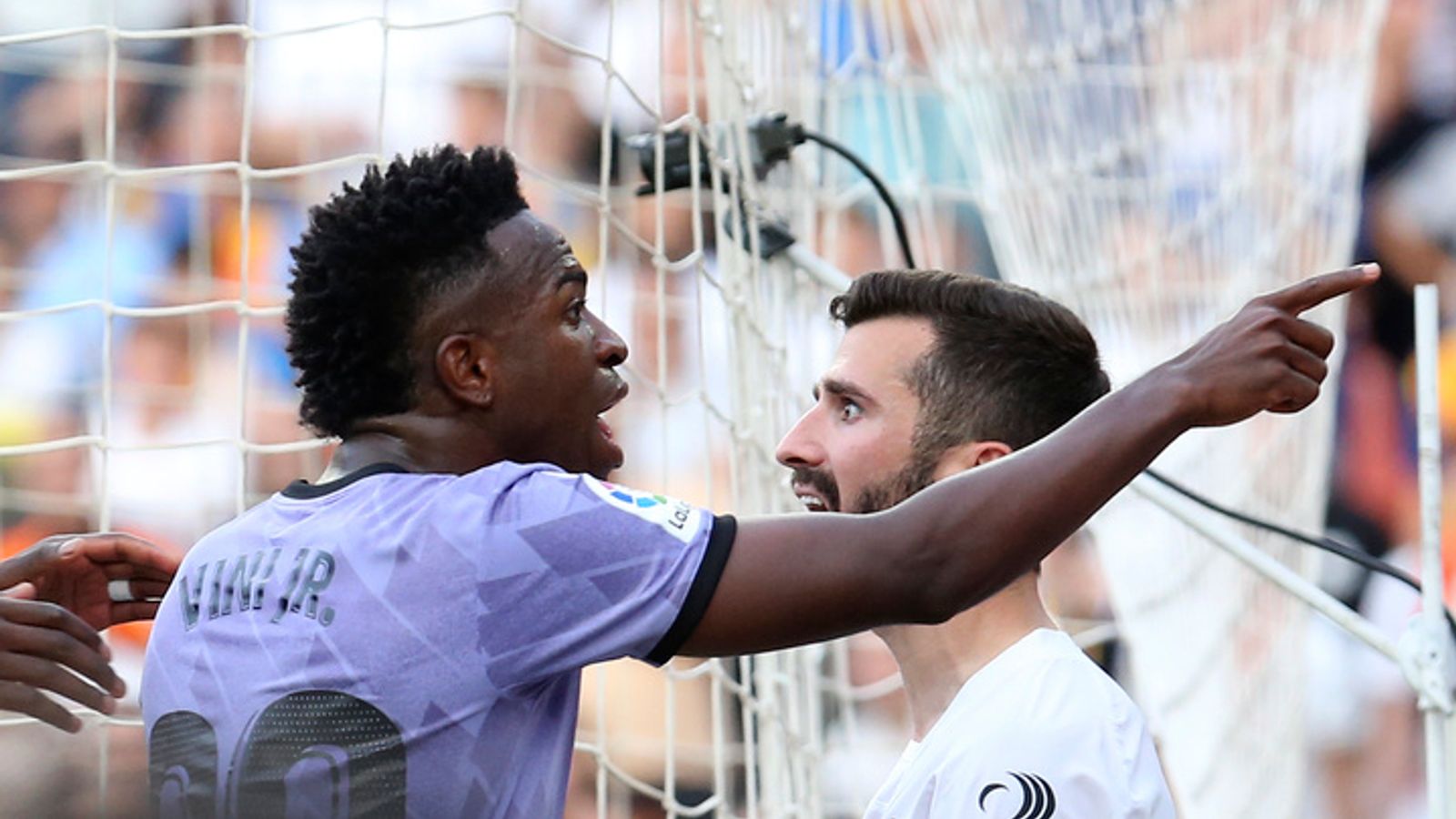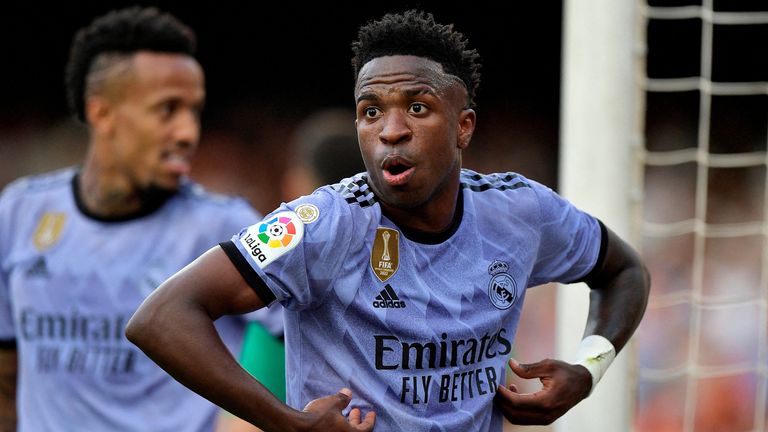 French striker Kylian Mbappe has told Vinicius Jr he is "not alone" after the Real Madrid attacker became incensed while being subjected to racist abuse from fans.
Mardid's away tie against Valencia was paused on Sunday night after the half-time break as the 22-year-old Brazilian pointed out supporters who were taunting him to the referee.
Vinicius, who has been racially abused from the stands several times this season, was enraged, prompting teammates and opposition players to try to calm him down at Valencia's Mestalla ground.
The Brazilian was later sent off for violent conduct in added time of his side's 1-0 defeat following an altercation with Valencia striker Hugo Duro – the first red card of his career.
In reference to the chants, Mbappe wrote in a post wrote on Instagram: "You are not alone. We are with you and we support you."
The 24-year-old Paris Saint-Germain star was targeted with racist abuse himself after France lost to Argentina in the World Cup final last year.
His message of support came after former England and Manchester United defender Rio Ferdinand, an anti-racism campaigner, posted on Instagram: "(Vinicius) receives a red card after being choked and receiving racial abuse during the game.
"How many times do we need to see this young man subjected to this s***?? I see pain, I see disgust, I see him needing help… and the authorities don't do s*** to help him.
"People need to stand together and demand more from the authorities that run our game.
"No one deserves this yet you are allowing it.
"There needs to be a unified approach to this otherwise it will be swept under the carpet AGAIN."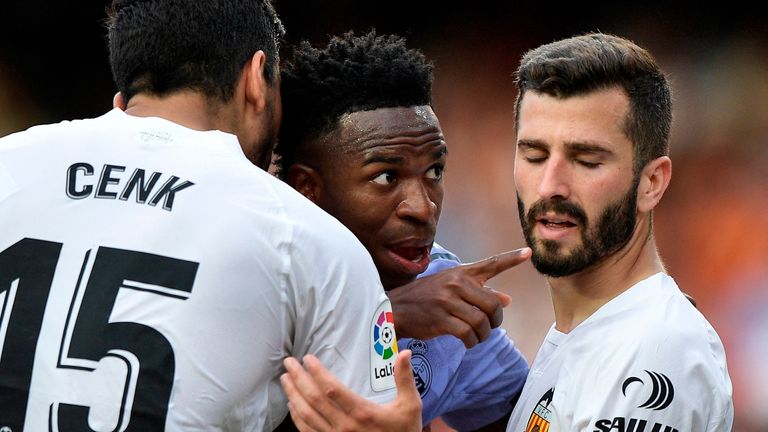 In reference to Vinicius Jr receiving a red card, Match Of The Day presenter and former England striker Gary Lineker tweeted: "Once again, the player being abused is the only person to be punished."
In a statement on Instagram after the match, Vinicius had referenced the previous instances of racist abuse and accused Spain's footballing authorities of not doing enough.
"It wasn't the first time, not the second and not the third. Racism is normal in La Liga," he said.
"The competition thinks it's normal, so does the Federation and the opponents encourage it. I am so sorry."
'La Liga belongs to the racists'
Vinicius said the Spanish league, that once "belonged" to star players like Lionel Messi and Cristiano Ronaldo, now "belongs to the racists".
"Sorry for the Spaniards who do not agree, but today, in Brazil, Spain is known as a country of racists," he added.
"And unfortunately, with everything that happens on a weekly basis, I have no way to defend. I agree."
Meanwhile, La Liga president Javier Tebas accused Vinicius of twice not turning up for meetings to discuss what can be done "in cases of racism".
Mr Tebas wrote: "Before criticising and insulting La Liga it is necessary that you inform yourself properly Vinicius Jr."
Vinicius hit back and said: "Once again, instead of criticising racists, the president of La Liga appears on social media to attack me."
He added that he wants "actions and punishments" for people who make racist chants.
Madrid boss Carlo Ancelotti had earlier backed his player after the match, saying La Liga "has a problem" with racism.
Luiz Inacio Lula da Silva: 'We can't allow racism to become part of life at a soccer stadium'

The Italian said the referee should have stopped the match due to the "unacceptable" chanting directed at Vinicius.
"It's the entire stadium that is insulting a player with racist chants, and the match has to stop," he added.
Mr Ancelotti also tweeted: "Today has been a sad day at Mestalla, where a group of fans have shown their worst version.
"It is time to stop talking and act forcefully. Racism cannot have a place in football or in society. NO TO RACISM ANYWHERE."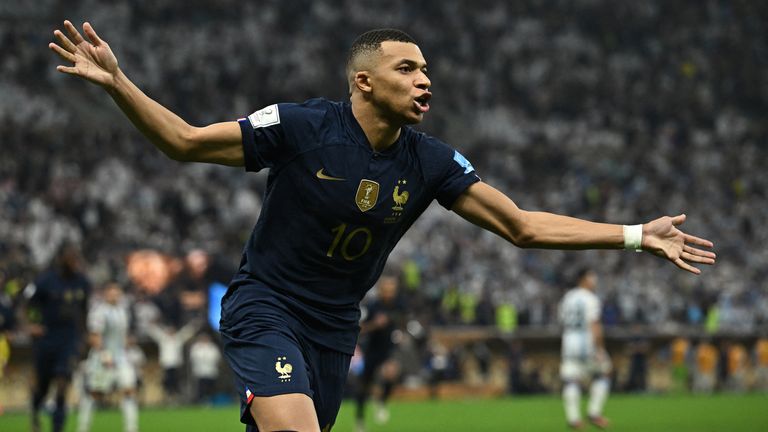 However, Valencia director Javier Solis said Mr Ancelotti was wrong to blame the abuse on all fans.
He said: "In light of the unfortunate and completely incorrect statements by Mr Ancelotti, in which he branded all of the fans in Mestalla as racist, the club cannot tolerate this.
"We reject these complaints head-on. Possibly it is a result of a mistake in the language and he must have understood another word as being said.
"The club condemn any kind of racist insults and are working to identify the people who allegedly made a gesture or action, but calling all the Valencia CF fans racist is nonsense and the club cannot remain silent."
Sunday's treatment of Vinicius at the Mestalla has also been condemned by Brazil's President Lula da Silva.
Speaking at a news conference on the sidelines of the G7 summit in Japan, he called on FIFA and La Liga to "take measures so we don't allow racism and fascism to take over" the sport.
The president said Vinicius, widely considered one of the best young players in the world, was being "insulted in every stadium he goes to".
Club vows investigation
La Liga has released its own statement, saying it had been "fighting against this kind of behaviour for years".
Valencia also posted a statement on their club website, pledging it would investigate what happened and "take the most severe measures".
"Valencia CF wishes to publicly condemn any type of insult, attack or disqualification in football," it added.
Some 46,000 supporters were in attendance for Sunday's match, which saw Valencia move up to 13th in the league table and Madrid remain third – 14 points behind arch-rivals and champions Barcelona.
Diego Lopez got the only goal of the game in the 33rd minute for the home side.