US and allies to provide F-16 fighter jets to Ukraine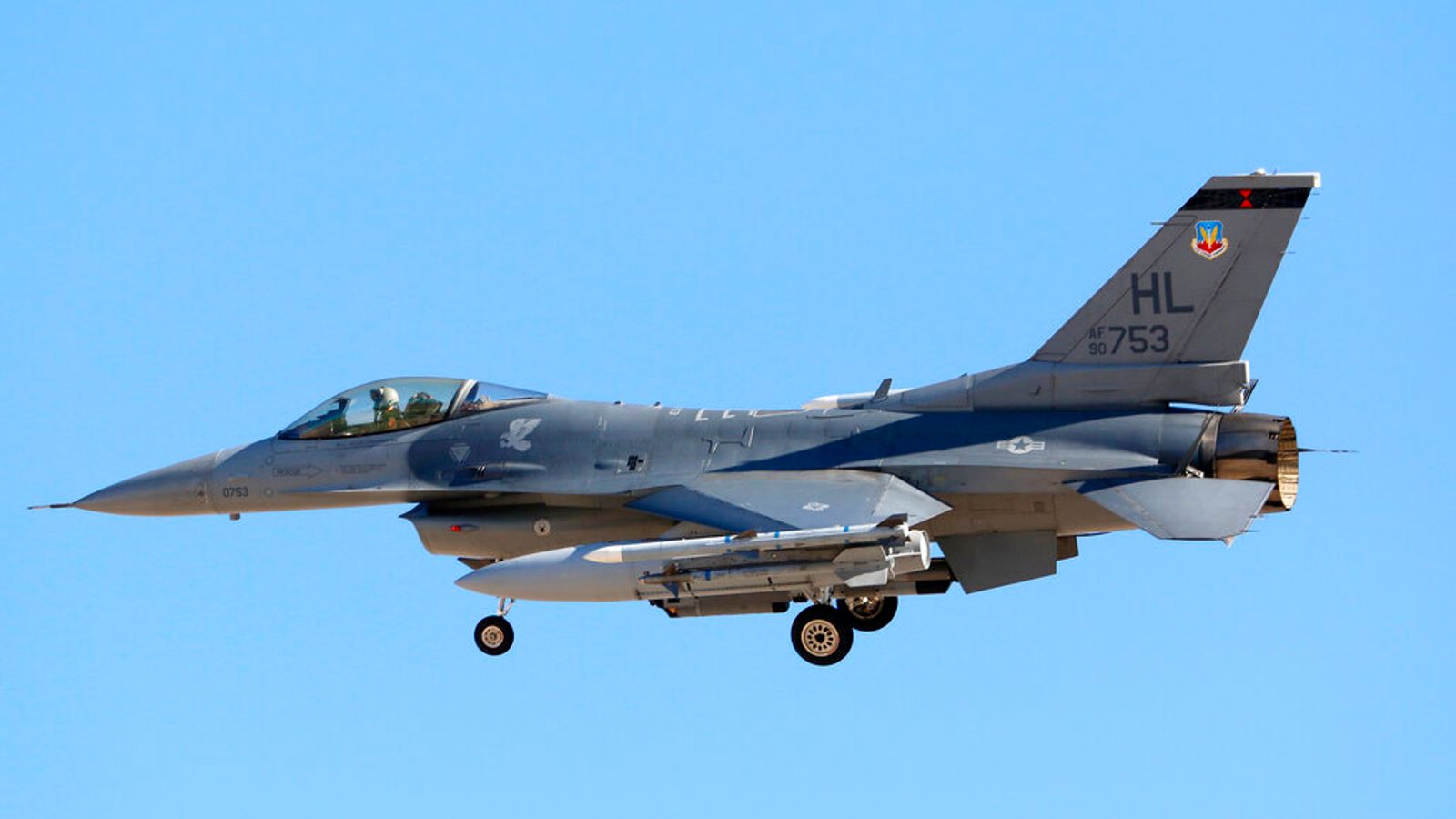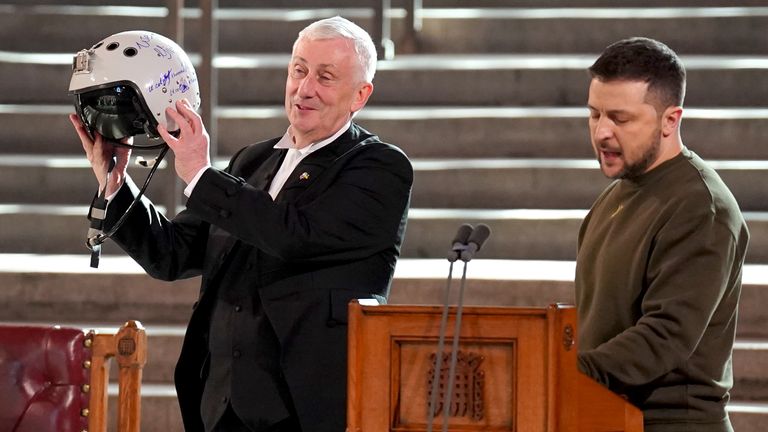 The US and its allies plan to provide Ukraine with F-16 fighter jets, a White House official has said.
The timing for when Ukraine will receive the jets – and which countries will provide them – remains unclear, but the official said the planes will not be used for Ukraine's upcoming counteroffensive against Russia.
The US and its allies will "decide when to actually provide jets, how many we will provide, and who will provide them", the official said.
Putin claims West trying to break up Russia – Ukraine war latest
The move comes after US President Joe Biden previously refused requests from Volodymyr Zelenskyy for F-16 jets.
The Ukrainian president frequently asks world leaders for fighter aircraft, which until now have been rebuffed.
On a visit to London, he even presented the Commons Speaker Sir Lindsay Hoyle with a Ukrainian airforce helmet to reinforce his point.
Western leaders have argued that training on the aircraft would take too long. It would also be some of the most sophisticated hardware provided for Ukraine, raising the stakes between Russia and the West.
It is understood the F-16s may not necessarily come from the US.
The move is part of a long-term effort to strengthen Ukraine's security, the White House official said.
What is the F-16?
The F-16 Fighting Falcon is a multi-role fighter aircraft developed for the United States Air Force.
It has an internal M61 Vulcan cannon and 11 locations for mounting weapons and other equipment.
Its payload typically consists of two 2,000lb bombs, two AIM-9 Sidewinder short-range air-to-air missiles, two AIM-120 medium-range air-to-air missiles and two 2,400lb external fuel tanks.
The jet can travel at speeds up to 1,500mph and has a range of more than 2,002 miles.
It has a wingspan of 32ft 8in (9.8m) and a length of 49ft 5in (9.8m). It weighs 19,700lb without fuel and has a maximum takeoff weight of 37,500lb.
There is both a single-seat and two-seat model of the aircraft.
During the Gulf War in 1991, F-16s were used to attack airfields, military production facilities, Scud missile sites and other targets.
They were also used in the NATO bombing of military infrastructure in Yugoslavia in 1999, as well as in Iraq and Afghanistan.
"Discussions about improving the Ukrainian Air Force reflect our long-term commitment to Ukraine's self-defence," the senior Biden administration official added.
Mr Biden said in an interview with ABC News in February that US military advice showed Ukraine did not need F-16s at the time.
"I'm ruling it out for now," he said.
Biden styles out stumble in Japan

However, Mr Biden informed G7 leaders on Friday that the US will support efforts to train Ukrainian pilots how to fly F-16s.
The effort to train Ukrainian pilots on the jets could start in the coming weeks, the official said.
The training will "take place outside Ukraine at sites in Europe and will require months to complete", the official added.
Dutch prime minister Mark Rutte said: "Together with my British, Danish and Belgian colleagues we welcome the news that the United States stands ready to approve the training of Ukrainian pilots on F-16 fighterjets."
Zelenskyy lands in Saudi Arabia

Read more:
Terror and desperation inside Bakhmut
Training Ukrainian pilots could compromise UK recruits
Colin Kahl, the Pentagon's top policy official, previously told Congress that training Ukrainian pilots on F-16s could take "about 18 months".
Other US defence officials have said the training could be shortened to only six to nine months based on pilots' previous training and knowledge of fighter aircraft.
Mr Kahl has previously said that it could cost up to $11bn (£9bn) to revitalise Ukraine's military with F-16 jets.
Russia strikes Zelenskyy's hometown

G7 leaders have not announced who would pay to provide Ukraine with the planes.
In March, NBC News reported that two Ukrainian pilots were in the US undergoing an assessment to determine how long it could take to train them to fly attack aircraft, including F-16s.
Washington had also approved bringing up to 10 more Ukrainian pilots to the US for further assessment.