Will Auburn's big gamble on Hugh Freeze pay off?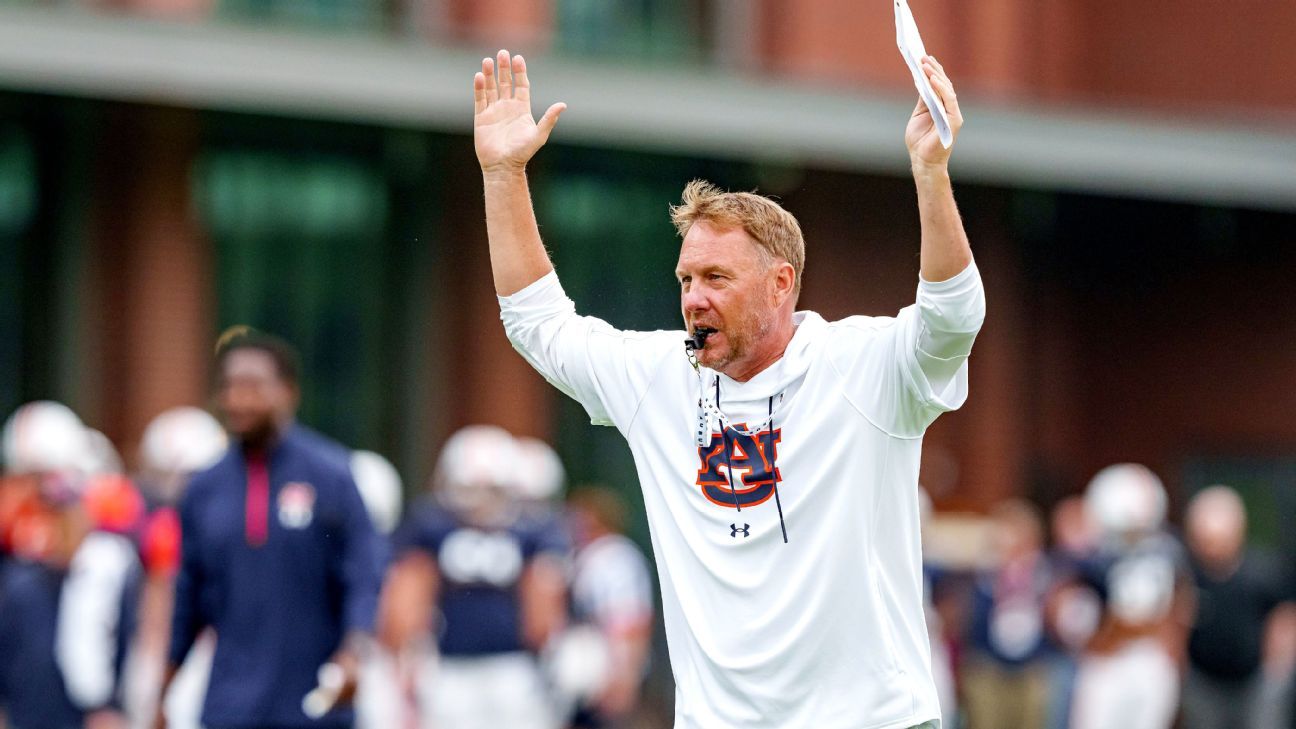 AUBURN, Ala. — Auburn coach Hugh Freeze spoke from the front of the team meeting room before a practice this spring — his hands tucked in the pockets of his orange mesh shorts, pacing back and forth, his voice rising as he became more animated.
"There are five schools that have played for two national championships in the past 12 years," he told the entire team and staff seated in the stuffy auditorium. "Five. FIVE in the country."
He held up his left hand to show his fingers.
"FIVE," he repeated, almost yelling now. "FIVE. And you sit in a team meeting room of one of those five schools. So some have come before you that had vision. Coaches have gone before me that have vision. Coaches and players have proven that this program can have a vision and accomplish something special. And it can be done again, but it's going to take a culture change from what it's been. I'm not pointing blame at anyone. I don't know. But I still see signs of it. I can't handle that. We must own it."
Freeze, who was one of the most controversial hires of the offseason because of his own troubled past, is already knee-deep in trying to pull Auburn out of its own muck. Former coach Bryan Harsin didn't last two seasons, earning him the dubious distinction of becoming the program's shortest-tenured head coach in the past 93 years. Auburn — a program that has won five national titles but none since 2010 — was losing on the field and off it, as Harsin went 9-12 and was the focus of a weeklong university investigation into his treatment of players and staff.
Auburn and new athletic director John Cohen took a public relations gamble by hiring Freeze, whose rapid success at Ole Miss — which included beating Alabama and Nick Saban twice — was overshadowed by NCAA recruiting violations and phone calls to an escort service, which ultimately led to Freeze resigning in 2017. While coaching at Liberty in 2022, Freeze was again mired in controversy when he used Twitter to send direct messages to a sexual assault survivor who sued the university for mishandling her case and won.
Freeze said he tried for two years to fight the public backlash that accompanied the Ole Miss violations, but realized "it just made it worse."
"You can't fight it because I created it," he said.
"Yeah, I did," he said, raising his right hand to concede guilt. "I did, but that's not who I am. I think you can ask anybody who truly knows me and has been around me and they would say that."
There's no sugarcoating what a polarizing man Freeze has become in the sport. Some are aghast that he has returned to the highest level of collegiate coaching — in the same SEC West division he left in disgrace — while others have embraced his return and accepted his mistakes, eager to see whether he has changed, and whether he can change Auburn.
The 53-year-old coach will be judged at Auburn not only by how much he wins but also by how he does it. Freeze has had a blueprint for winning everywhere he's been, but he has never coached at a place like this at a time like this. Even on a good day, Auburn is one of the most difficult coaching jobs in the country — a pressure-packed position highly scrutinized by its overzealous fan base and meddling boosters. The challenge is further exacerbated by sheer geography, which has the Alabama dynasty to the north and back-to-back national title winner Georgia to the east. Those at Auburn candidly warn the rebuild will take time after the school's first back-to-back losing seasons since 1998 and 1999.
This is where Freeze's story begins this spring, in the team meeting room, with everyone trying to follow the theme on the screen at the front of the room, "Flip the Script," including the coach himself.
---
"WHAT IN YOUR life are you experiencing today because of the vision of someone else?" Freeze asked the roomful of players and coaches staring back at him in the meeting room.
Silence.
"Because of what someone else did for you?"
Silence.
"C'mon, somebody."
Silence.
"We're gonna be late to practice," he said. "But we're going to learn as a program to communicate."
It's one of the first steps, but that's where Auburn is right now — starting from scratch while simultaneously burdened by the weight of its own history. Auburn has a new university president in Chris Roberts, who was hired in February 2022. A new athletic director in John Cohen, who was hired in November. A new $92 million facility that covers 12 acres. And Freeze, who is being paid $6.5 million to resurrect a program that for years couldn't get out of its own way.
Two years ago, Auburn opted to pay a $21.7 million buyout to fire coach Gus Malzahn, who went 68-34 in eight seasons. It cost the school a total of $15.5 million in buyout money to fire Harsin, who was a peculiar choice to begin with, having spent nearly his entire playing and coaching career in Idaho. According to an ESPN investigative report, Auburn paid out $31.2 million in dead money between Jan. 1, 2010, and Jan. 31, 2021 — more than any other school — and that didn't include Harsin's payment. The persuasive power and deep pockets of the program's boosters have influenced the trajectory of the program — "absolutely something" that Freeze was aware of and that weighed on his mind when he was offered the job.
"When you take a job like this, you have to get in who really matters," Freeze said, "and the boosters do matter, but I can't be swayed or distracted by their opinions or their expectations. I have to stay within the walls of this building."
Throughout the 233,428-square-foot Woltosz Football Performance Center, which formally opened in January, are trophies and jerseys from the program's NFL draft picks, constant reminders of what the Tigers are playing for. Auburn has won three SEC West titles and two SEC championships and has played for the national title twice over the past 12 seasons.
There is no Cam Newton on this year's roster, though.
Evaluating, developing and retaining talent has fallen far below the program's standards. During a recruiting cycle that was disrupted by uncertainty surrounding Harsin's future, Auburn signed only five ESPN 300 recruits in its 2022 class. By comparison, Alabama brought in 19 in the same class, Georgia added 16, and Texas A&M topped them all with 24. From Jan. 4, 2021, to now, a whopping 67 Auburn players entered the transfer portal. Forty-one left Georgia during that same span.
Freeze said the 2024 and 2025 recruiting classes will be critical to the program's ability to close the gap with Alabama and Georgia.
"If we're not in that top-10 range, they'll probably be firing me in Year 4 or Year 5," he said with a half-laugh, "but you know that coming in. … The administration, John Cohen has been awesome, President Roberts, I think everybody knows they've gotta give us a chance to get a couple top classes in here. If we don't do that, and are able to still win it, it would be a miracle."
Cohen said he understands it will take some time. Patience hasn't been a part of Auburn's recent history, though, as the previous administration was quick to move on from Harsin after a 9-12 record in just under two seasons.
"I absolutely understand the fact that our improvement is going to come in increments," Cohen said, "and I believe we're going to get there, but I think Hugh totally agrees with the fact that's our goal — incremental improvement every day, every month, and if we do that, we know it's going to show up on the football field."
Freeze said he's getting the right players on campus, and there's evidence, as he has flipped several ESPN 300 prospects to commit in the No. 20 incoming freshman class according to ESPN. He also has brought in the No. 7 incoming transfer class according to ESPN.
It has to be even better, though, to beat Alabama and Georgia.
"How anybody really closes it on those two, the challenge is tall," Freeze said.
Freeze has been at Auburn for about six months. As new as it is, it's also somewhat familiar, as Freeze has been hired to reconstruct programs before, dating back to 2008-09 at "little ol' Lambuth," where he won 20 games in two years and elevated the program to unprecedented heights.
Then he took over at Arkansas State, which had never had a winning season since entering the FBS. Freeze won 10 games and the Sun Belt there. When he was hired at Ole Miss, the Rebels hadn't won an SEC game in two years. In his first season, Ole Miss won seven games and went to a bowl game. At Liberty, which transitioned from FCS to FBS, Freeze directed the Flames to at least eight wins and a bowl game every season.
Freeze said that it's hard to pinpoint one thing beyond recruiting that correlated to his success at each stop (among those he signed at Ole Miss was future Seattle Seahawks receiver DK Metcalf) but that it began with "a culture that breeds confidence" and extracting the most out of the players they have. Schematically, his tempo run-pass option offense "has been a big part of" his past 10-win seasons, which at times has overshadowed strong defenses. When Freeze was first hired at Ole Miss, the RPO concepts he had implemented were fairly new, but he conceded that "people have kind of caught up with that now some."
"I've done them all the exact same way," he said, "and to this point — to this point — this has worked for me. Will it here? Which is a taller task than, you would argue, the other four? It's the only way I know to do it. So we're gonna find out."
---
Doering says Auburn QB battle has long way to go
After attending the Tigers' spring game, SEC Network analyst Chris Doering joins "The Paul Finebaum Show" and says new coach Hugh Freeze is not set on a starting QB.
AFTER THE TEAM meeting this spring, the Auburn Tigers filed out to practice, where improvements and inconsistencies played out in real time.
One of the tight ends was hit in the numbers and dropped the ball near the sideline. Another receiver dropped a ball. Two quarterbacks who are relatively unknown nationally — sophomore Robby Ashford (nine starts) and junior T.J. Finley (three starts and has since entered the transfer portal) — were competing for the starting job, along with redshirt freshman Holden Geriner. Freeze said the competition is wide open, and he probably won't name a starter until the summer, when Michigan State transfer Payton Thorne will join the competition.
Auburn's passing game struggled mightily last year, ranking No. 119 in the country with 172.7 yards per game. Auburn was also No. 101 in first downs per game and No. 98 in third-down conversion percentage. Freeze isn't going to change his high-tempo, RPO-driven offense, but he's surrendering control of it to coordinator Philip Montgomery, who spent the past eight seasons as Tulsa's head coach.
"Both of us want to be on the same page, and open and honest about how we're approaching it," Montgomery said. "The point that we got to was, he was bringing me here to be the playcaller, but also he's always got an influence and a trump card and if there's something he wants to run, that's what we're going to do. Understanding this is the first time he's relinquished some of those duties, and that's hard."
Before taking over at Tulsa, Montgomery had Baylor's offense flying as its offensive coordinator. During his three seasons (2012-14) in Waco, the Bears averaged almost 600 yards and 50 points per game.
Defensively, Auburn has been average or subpar in most categories, a far cry from the elite level needed to win the SEC. Ron Roberts, who was the defensive coordinator at Baylor the past three seasons, took the same position at Auburn in mid-December. The 2021 Bears defense led the conference in interceptions (19), turnovers gained (27) and defensive touchdowns (three). Baylor also finished second in the Big 12 in run defense (118.4 yards per game) and scoring defense (18.3 points per game).
Auburn needed an upgrade in every one of those categories.
"If we can get in that top 10 coming out of the gate, great, but the expectation is we're at Auburn, and we need to be top 20 in the country in defense every year, and if we're not, then we're underachieving," Roberts said, "so I gotta find a way to get that done."
Freeze has experience returning to his roster. According to ESPN's Bill Connelly, the Tigers return the third-most production in the SEC, including the top three players in receiving yards (Ja'Varrius Johnson, Koy Moore and Jarquez Hunter) and two of the three 500-yard rushers (Ashford and Hunter). Auburn also returns two players with at least 50 tackles in Cam Riley (65) and Keionte Scott (53).
Tight end Luke Deal sees a solution for a team that finished 2-6 in the SEC last season but became more competitive in the final third of the year.
"It's just consistency," Deal said. "If you watched last year, if you watch that team, toward the end of the season, completely different ballclub, and we bring that same energy earlier in the season, who knows?"
---
MUCH LIKE THE program he has taken over, Freeze can't escape his past. Although he desperately wants to move forward, he also uses his past transgressions as open lessons with his team.
Freeze said that he's "so sick of rehashing it" but also that it's "the facts."
"It's made me better," he said. "It's made my wife and I better. It's made, you know, everybody around me better. I think it made me a better coach because I share the real-life examples with our players and let me tell you when Coach got it wrong. Let me tell you when he got it right. Let me tell you why."
In the span of seven years, Freeze ascended from a high school coach in Tennessee to a successful SEC West coach, where he took the Rebels to their first Sugar Bowl in 45 years. He said he "was obviously not mature enough to handle everything that came at me."
Now he gets another shot at the big time. In some ways — from meddling boosters to the specter of the Alabama and Georgia dynasties — it will be his most difficult job yet. But with that comes a huge opportunity.
"We just always felt like this is a place that you can win big, yet they haven't done it," Freeze said. "I've got a few years left in me before I say I've had enough, truthfully. I don't want to do this until I'm 75 like my buddy Nick [Saban]. … I just think for the years I have left, I want the challenge of it."