Donald Trump sexually abused writer E Jean Carroll, civil trial jury finds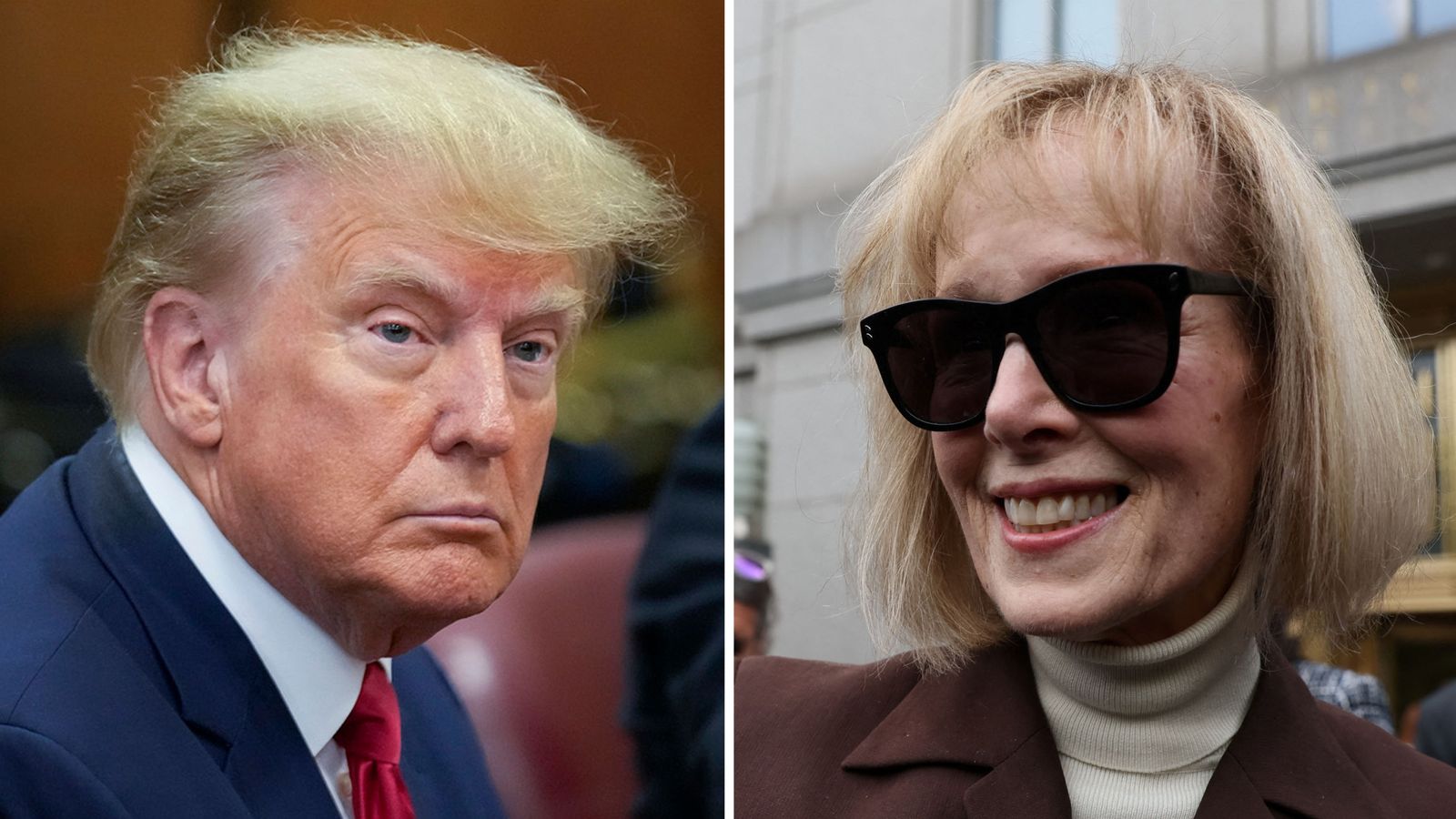 Donald Trump has been found liable for battery and defamation, after a civil trial jury found he sexually abused writer E Jean Carroll in the 1990s.
The jury rejected the rape claim but awarded the former Elle magazine advice columnist $5m (£4m) in damages.
The nine-person jury began discussing the battery and defamation lawsuit on Tuesday and deliberated for just under three hours.
Trump now 'sex offender' in eyes of New York court – latest updates
Ms Carroll, 79, had claimed that the former US president raped her in a department store changing room in Manhattan in 1995 or 1996.
She said he defamed her by claiming she made up the story and was seeking compensation and punitive damages.
Trump, who did not attend the trial, has insisted he never sexually assaulted Ms Carroll or even knew her. He has called the verdict a "disgrace" on his Truth Social platform.
Trump said: "I have absolutely no idea who this woman is. This verdict is a disgrace – a continuation of the greatest witch hunt of all time."
'We are very happy'
The former US president, campaigning to retake the White House in 2024, will appeal, his spokesman Steven Cheung said. Trump will not have to pay so long as the case is on appeal.
Because this was a civil case, Trump faces no criminal consequences.
Former Trump aide Sean Spicer has said the charge of rape would have "stung a lot" for Donald Trump.
He said to "keep in mind this is a civil proceeding not a criminal proceeding", but added: "It's never a good thing to have a verdict against you… especially of this nature."
Mr Spicer said the "optics do matter in politics, but I think if you were president Trump right now… the charge of rape would have stung a lot".
Ms Carroll was spotted leaving the courthouse smiling and getting into a car. She and her lawyer Roberta Kaplan did not stop to speak outside court, but Ms Kaplan said "we are very happy".
Former aide says the charge would have 'stung a lot' for Trump

'Inconsistent verdict', Trump's lawyer says
Speaking outside the court, Trump's lawyer Joe Tacopina said it was an "inconsistent verdict" but added that he was happy Trump "was not branded a rapist".
He said: "For me it's about the results. While it was strange, part of me was obviously very happy that Donald Trump was not branded a rapist I didn't think there should be any liability findings so we'll pursue that."
Mr Tacopina described it as a "circus atmosphere" and added that having Trump there "would be more of a circus".
Read more:
Sexual abuse finding will resonate through Trump's presidential campaign
During the trial, Ms Carroll testified and told jurors Trump "shattered" her reputation.
Her defamation claim concerns an October 2022 post on Truth Social in which he called her allegations a "complete con job" and "a hoax and a lie."
Moment Trump confuses rape accuser with ex-wife

In closing remarks on Monday, Ms Carroll's lawyers said Trump "didn't even bother to show up in person" to the trial and called him a "witness against himself".
During the seven-day trial, jurors were also shown a deposition by Trump confusing Ms Carroll for his ex-wife Marla Maples in a photograph – which Ms Carroll's lawyers said undermines the former president's argument that she was not his type.
Trump's lawyers previously said Ms Carroll has "abused the system" for "money, status and political reasons". The former president waived his right to testify at trial and opted not to present a defence.
Ms Carroll first made her accusations in a 2019 memoir.
She testified that she had a chance encounter with Trump at the Bergdorf Goodman store across the street from Trump Tower.
She said it was a light-hearted interaction in which they teased each other about trying on a piece of lingerie before Trump became violent inside a dressing room.