First RAF plane leaves Sudan as 'dangerous' mission launched to evacuate Britons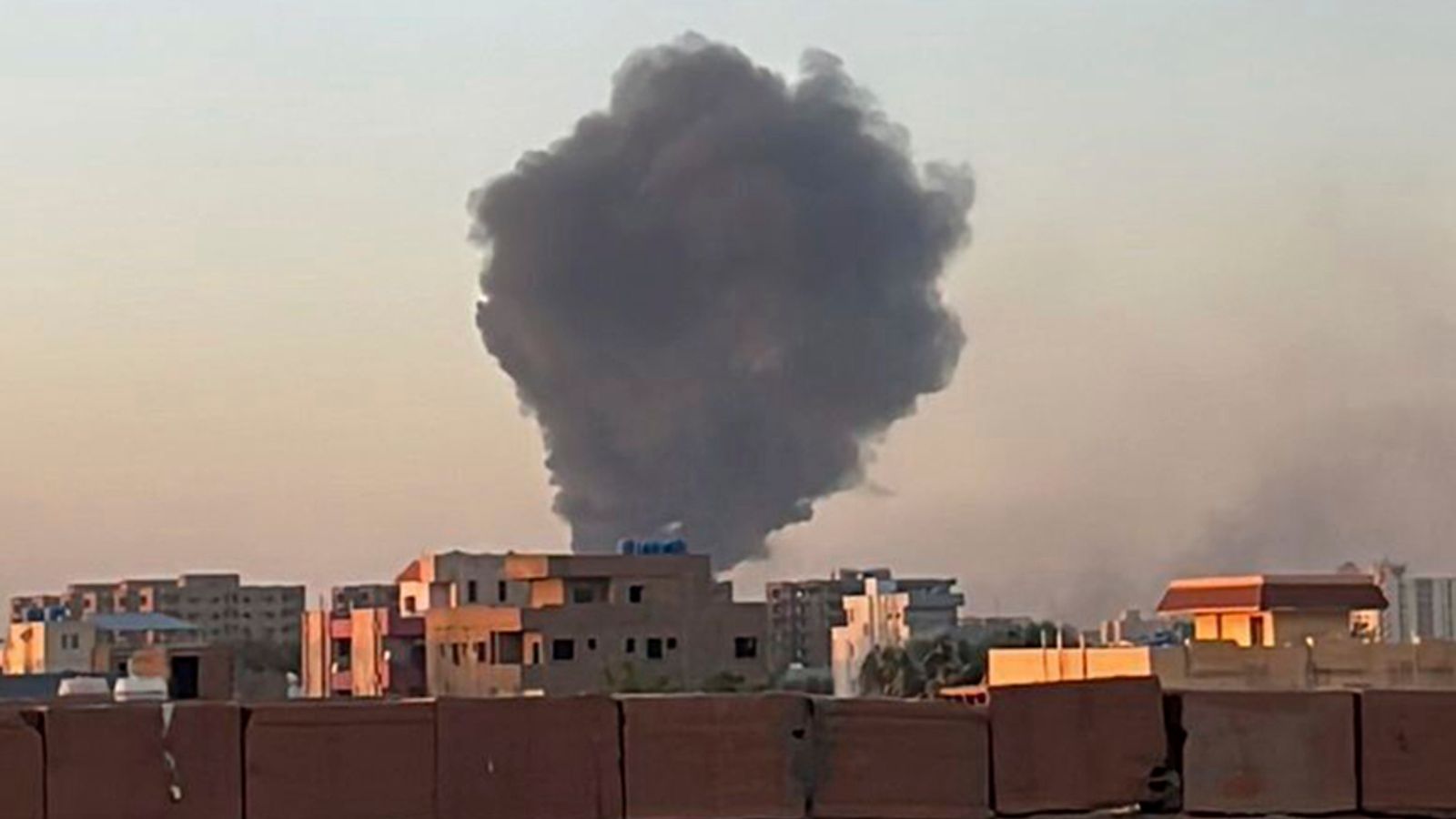 The first plane-load of Britons has left Sudan on an RAF jet as the UK launches a "complex" and "dangerous" mission to evacuate thousands of people.
Around 4,000 UK passport holders have been stranded after heavy fighting broke out in the east African country.
RAF planes are collecting people from an airfield near Khartoum and priority will be given to families with children, the elderly and people with medical conditions.
Evacuation effort begins for stranded Britons – Sudan latest
The first Hercules left Sudan this morning, according to a flight-tracking site, and is scheduled to land at RAF Akrotiri in Cyprus at about 12.30pm UK time.
It appears to be race against time as there are fears over whether a 72-hour ceasefire, which began late on Monday, will hold.
Britons will also have to reach the airfield themselves – negotiating checkpoints and potential outbreaks of fighting – as no escorts are being provided.
Foreign Secretary James Cleverly said it was "impossible for us to predict how long this opportunity will last".
Around 1,400 military personnel are believed to be involved in the UK operation.
Prime Minister Rishi Sunak tweeted that RAF aircraft were involved in the "large-scale evacuation" and called it a "complex operation".
Britons trapped in Sudan are being contacted directly and are being told not to go to the airfield unless they are called.
Sudan 'fundamentally different' to Afghanistan – Cleverly

"This is an active conflict, the ceasefire has been announced but we know there have been pockets of violence even within previous ceasefires," said Mr Cleverly.
"So this does remain dangerous, this does remain difficult.
"We are providing what assistance we can and we are operating as quickly as we can."
He also said the situation was "fundamentally different" to the chaotic evacuation of thousands of people from Afghanistan when the Taliban took control in 2021.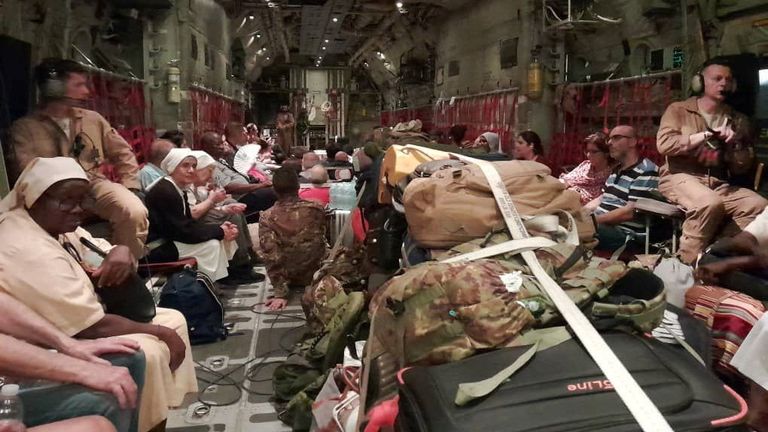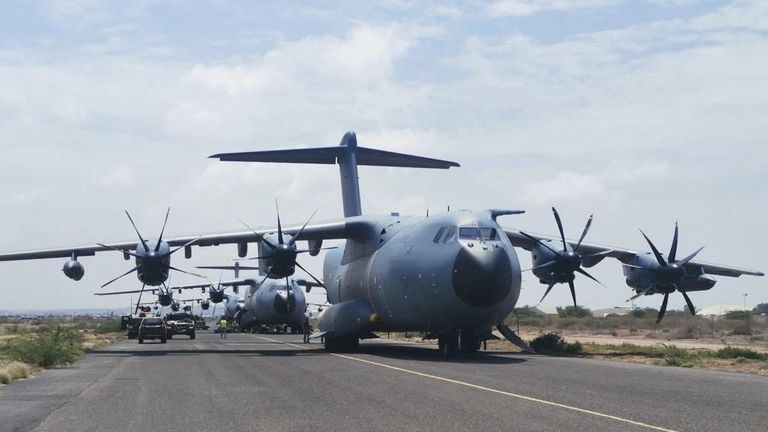 About 4,000 UK passport holders are thought to be trapped in Sudan as rival military factions battle for control.
Hundreds of people have died since the fighting started on 15 April and the evacuation comes after days of pressure for a plan to get Britons out.
Food and fuel have soared in price, electricity and internet are cut off in much of the country and the clashes have left governments scrambling to get their citizens and diplomats out.
Mr Cleverly said contact had been made with leaders of the two factions "calling on them to allow British nationals, dual nationals and minors to be evacuated".
Briton escapes Sudan on French flight

Sky's Alistair Bunkall – in Cyprus – saw the first flight take off from RAF Akrotiri and said many more are likely to follow considering the number of people who need evacuating.
It takes about three and a half hours to travel from the Mediterranean base to Sudan.
The Foreign Office said it was also looking at other potential "points of exit" – possibly by sea via Port Sudan, according to Bunkall.
Two ships, RFA Cardigan Bay and HMS Lancaster, are being lined up in case they are needed, said the Foreign Office.
The airborne evacuations carry obvious risks for the RAF, such as potential exposure to gunfire or even missiles, according to Sky's defence editor Deborah Haynes.
Although they shouldn't be targeted, she said there was "always the possibility of a mistake, a miscalculation or a deliberate attack given the chaos and unpredictably on the ground".
Streets of Khartoum devastated by fighting

Read more:
Which countries have evacuated their citizens from Sudan?
What's happening in Sudan?
Some UK citizens have manged to escape on evacuation flights operated by other countries.
Germany, Italy, Spain and France are among those that have already rescued hundreds of people from dozens of countries on their own flights.
However, the Foreign Office said only British passport holders would be able to get a place on the UK planes.
Britain's diplomats and their families were evacuated over the weekend in a precarious mission by elite troops that took place under the cover of darkness.
Some senior Foreign Office officials will be at the airstrip to coordinate the evacuations.
The violence in Sudan comes after rival generals fell out over a deal to incorporate the Rapid Support Forces (RSF) group into the military.
The army and RSF mounted a coup together in 2021 after long-time ruler Omar al Bashir was overthrown in a popular uprising two years earlier.
However, their relationship broke down during negotiations to integrate and form a civilian government.