Turkey-Syria earthquake: 'Our hands cannot pick anything up' – frustrated Turks criticise Erdogan's response to disaster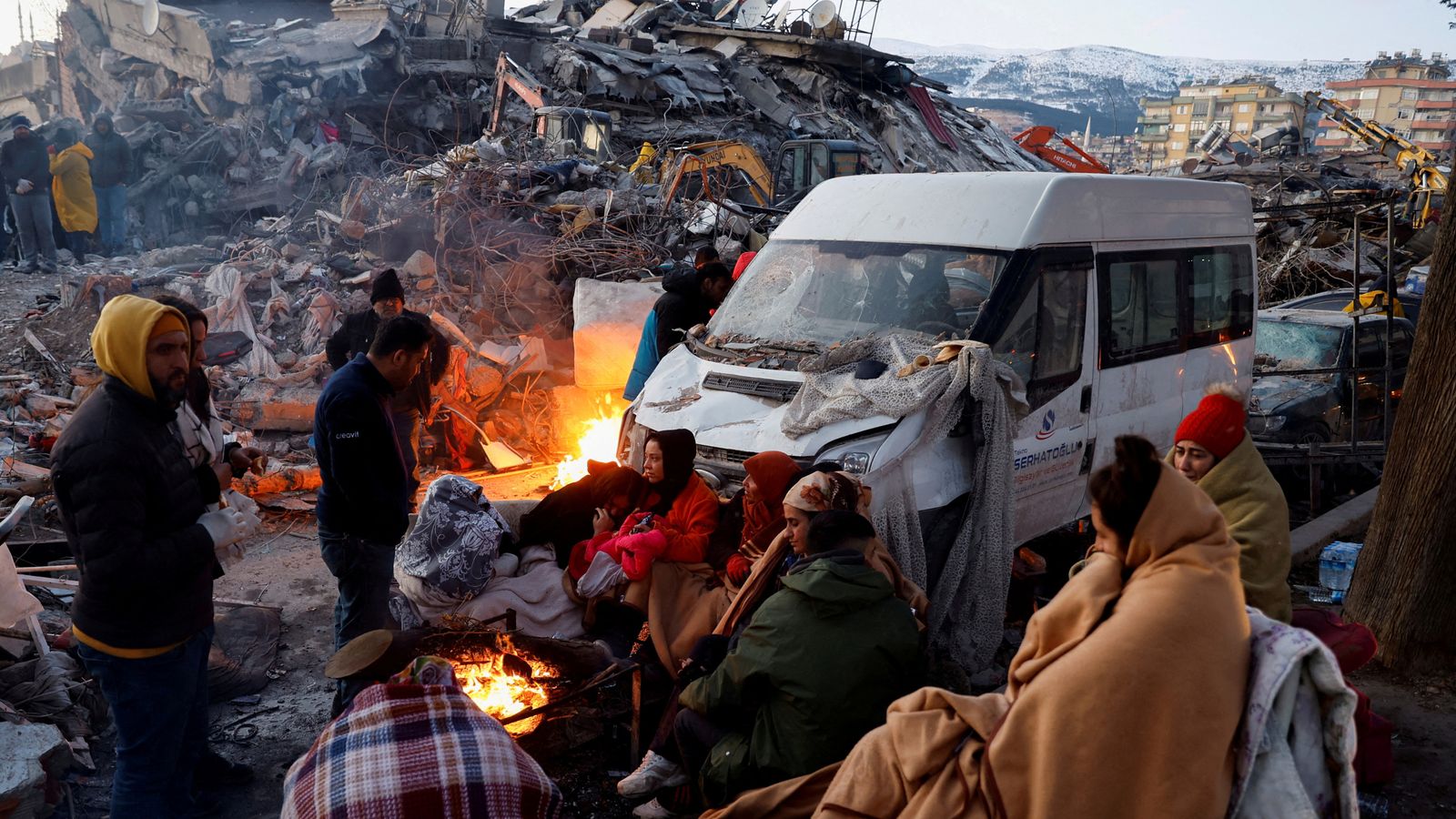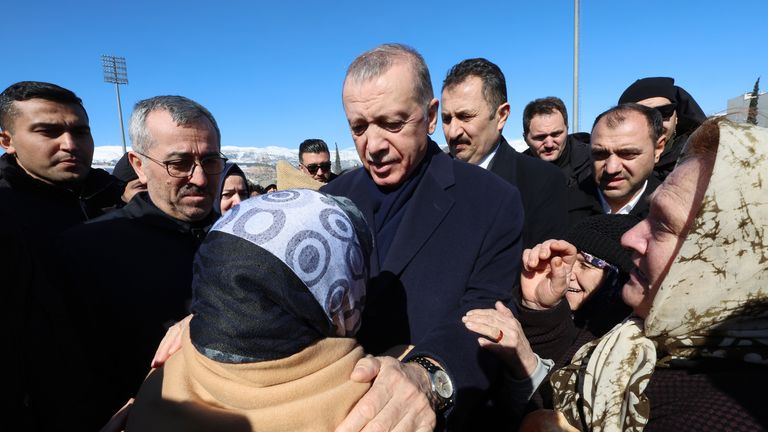 Turkey's president has admitted there have been "shortcomings" in his country's reaction to the devastating earthquake that has killed over 12,000 people.
Recep Tayyip Erdogan is facing growing criticism from families left frustrated by a slow response from rescue teams, as hope dwindles that more survivors will be found.
Many Turks have complained of a lack of equipment, expertise and support to help those who are trapped – leaving them helpless as they hear cries from under the rubble.
Turkey-Syria earthquake – latest updates
During a visit to Hatay province, where more than 3,300 people have died and entire neighbourhoods have been destroyed, Erdogan said: "It is not possible to be prepared for such a disaster. We will not leave any of our citizens uncared for."
Similar issues are being reported in neighbouring Syria, with the country's UN ambassador conceding the government has a "lack of capabilities and a lack of equipment".
Across Turkey and Syria, many of those in areas hardest hit by the 7.8 magnitude quake – and subsequent aftershocks – are afraid of going back into buildings.
"We survived the earthquake, but we will die here due to hunger and cold," one man in the Turkish city of Antakya said.
Some survivors are still being found – with footage showing a young girl in pyjamas and an older man holding an unlit cigarette between his fingers being lifted from debris.
Dead bodies lie in the streets

Chances of survival are diminishing
According to experts, the survival window for those trapped is now closing rapidly – but nonetheless, it is too early to abandon all hope.
Natural hazards expert Steven Godby said: "The survival ratio on average within 24 hours is 74%, after 72 hours it is 22% and by the fifth day it is 6%."
And David Alexander, a professor of emergency planning and management at University College London, said: "Statistically, today is the day when we're going to stop finding people. That doesn't mean we should stop searching."
He went on to warn that the final number of fatalities may not be known for many weeks because of the sheer amount of rubble spanning Turkey and Syria.
Read more:
Rescuers face mind-blowing devastation
How you can help save lives
Is more aid being sent to Turkey than Syria?
'My children are in the building'

'Our hands cannot pick anything up'
While some rescue teams have access to excavators, others have little choice but to use their bare hands.
Ozel Pikal, who assisted with search efforts in the Turkish city of Malatya, fears some of those trapped may have frozen to death after temperatures fell to -6C.
"As of today, there is no hope left in Malatya. No one is coming out alive from the rubble," he said.
Mr Pikal warned that damage to local roads – and a shortage of rescuers – was exacerbating attempts to save people.
He added: "Our hands cannot pick anything up because of the cold. Work machines are needed."
British rescue dogs helping search in Turkey

Erdogan hits back at critics
Turkey's president has pledged that the government will distribute 10,000 Turkish lira (£440) to families affected by the earthquake.
The natural disaster comes at a testing time for Mr Erdogan, who is facing an already challenging election campaign in May – fuelled by high inflation and an economic downturn.
Speaking to reporters, he criticised those spreading "lies and slander" about his government's actions – and said it was a time for unity and solidarity.
"I cannot stomach people conducting negative campaigns for political interest," he added.
Police in Turkey have been attempting to crack down on misinformation related to the earthquake response, and have arrested 18 people and identified over 200 accounts accused of "spreading fear and panic".
Some internet service providers in the country have also restricted access to Twitter – affecting trapped survivors who have been using the social network to alert rescuers and their families.
The Turkish government has been known to temporarily restrict access to social media during national emergencies and terror attacks – and Twitter's owner Elon Musk said: "We are reaching out to understand more."