NHS England setting up 'war rooms' to prepare for 'toughest winter on record'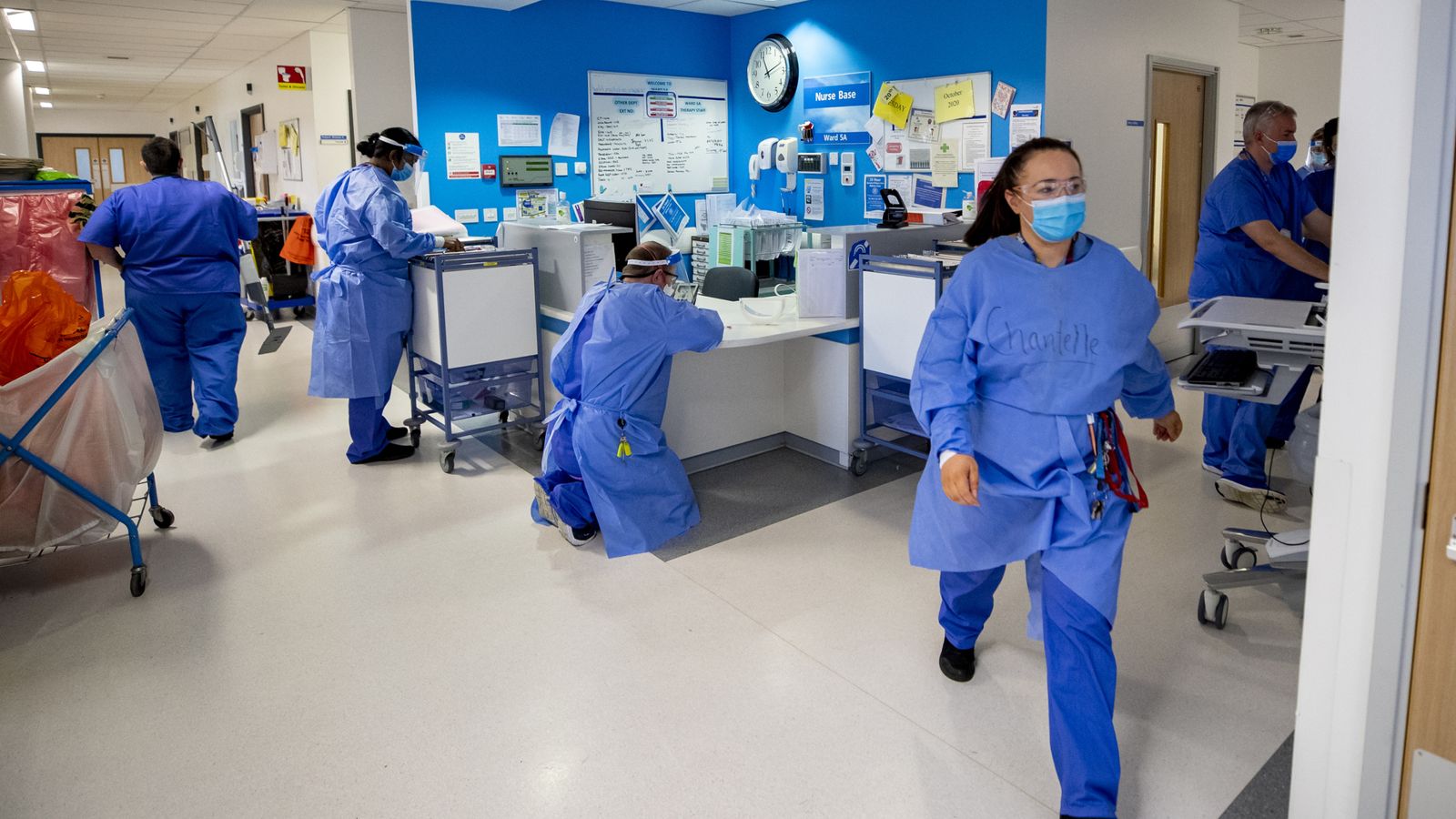 The NHS is setting up data-driven "war rooms" as it prepares for what could be England's "toughest winter on record", new plans have revealed.
Under the government's winter preparation plan, which aims to help the NHS cope during the colder months, the 24/7 "care traffic control centres" are expected to be created in every local area.
The hubs, led by teams of clinicians and experts, will manage demand and capacity across England by constantly tracking the number of beds available and people attending hospital.
It is hoped the centres will make it easier and quicker for decisions, such as if hospitals need extra assistance or if ambulances need to be diverted, to be made.
It will mark the first time a system has been used to take stock of all activity and performance within the NHS.
Rapid response teams to help people who have fallen at home are also being set up across the country to prevent unnecessary hospital trips.
NHS England believes this expansion could see about 55,000 ambulance trips freed up to treat other patients each year.
Under the plans, care providers will also be given more support to deal with falls, with around two in five hospital admissions from care homes currently related to patients falling over.
On top of that, NHS chiefs have vowed to roll out around-the-clock access to professional mental health advice within ambulance services to help give more people access to the correct community support.
Hospital waiting time hits new high

'Be prepared for things to get even tougher'
In a letter to all NHS foundation trusts, signed by the health service's chief executive, Amanda Pritchard, chief financial officer Julian Kelly and chief operating officer David Sloman, staff have been told "the coming weeks and months will be difficult".
"We continue to be in a Level 3 incident, and services are under continued, significant pressure, with challenges including timely discharge of patients impacting on patient flow within hospitals, alongside ongoing pressures in mental health services," it stated.
Read more:
How to get a COVID booster
Nurses 'can't afford to work for NHS'
'NHS broken beyond repair'
"We therefore all need to be prepared for things to get even tougher over the coming weeks and months.
"We will support you in doing your best under these very difficult circumstances, including as you work with and support clinical leaders to ensure risk is managed appropriately across local systems."
Respiratory infections expected to take up half of all NHS beds
It comes as the NHS is expecting to see a "very challenging winter", with respiratory infections, including COVID, flu and pneumonia, predicted to be one of the most significant pressures.
Recent modelling has suggested that such health issues could occupy up to half of all NHS beds throughout the already busy season.
Grandmother had more than 200 emergency call outs in a year – will the new NHS plan help?
The government's winter preparation plan is designed to take treatment and care to patients in the community as much as possible to ease pressure on hospital attendances and capacity.
So-called "rapid response teams" will target people who have had a fall either at home or in a care home but are not seriously hurt and do not need to be admitted to hospital for treatment.
I spent a day last week with paramedics from the London Ambulance Service. Our third emergency call was to visit Elizabeth 78-year-old grandmother, who lived on her own and who had fallen from her bed.
The paramedics had been called by Elizabeth's carer. When we got there, they undertook a thorough assessment and thankfully Elizabeth had not suffered any broken bones or bruising.
We spent over an hour with Elizabeth, and rightfully so. She was a Category 2 emergency and needed to be seen by a trained paramedic in case she had seriously hurt herself.
Elizabeth had three ambulances visit her the day before and more than 200 emergency call-outs in the previous year.
If she had adequate care or somebody else to respond to her fall, then all those ambulance trips would not have been necessary.
There will also be a "new 24/7 system control centre created in every local area, which will manage demand and capacity across the entire country".
This needs more detail. One trust chief executive I spoke to said this (on the face of it, at least) sounded "a bit like spin".
If the idea is to manage patient flows to hospitals, to see where bottlenecks are building, and then diverting resources to hospitals and trusts in need of urgent help, it should already, to some extent, be happening.
It might be the first time ambulance data is available nationally and monitored 24/7 to react to live situations, but his fear was patients being transported long distances.
What is apparent is that there are genuine fears about what this winter will bring. The government says it "is preparing earlier and more extensively than ever before".
New "respiratory hubs" will be built locally to look after patients with infections such as acute bronchitis and pneumonia.
There is expected to be a surge in winter respiratory infection, including flu and COVID. Again, the same day access to specialist care is to stop patients being admitted to hospital where possible.
Therefore, the NHS is preparing earlier and more extensively than usual, with the plans also aiming to create extra bed capacity in hospitals and in the community, and a drive to increase the number of 111 and 999 call handlers.
"This winter could be the toughest on record for the NHS, which is exactly why services are working together early to make sure patients get the care they need, where they need it most," said Matthew Taylor, chief executive of the NHS Confederation.
Ms Pritchard added: "Winter comes hot on the heels of an extremely busy summer – and with the combined impact of flu, COVID and record NHS staff vacancies – in many ways, we are facing more than the threat of a 'twindemic' this year."
The autumn COVID booster programme will continue to be rolled out throughout winter, with more than eight million people already receiving their top-up jab.
People aged 50 or over and those considered at high risk of catching COVID are among those currently able to get the extra dose.
Govt 'determined' to help – but Labour says 'sticking plasters won't do'
Health minister Robert Jenrick said the government is "determined to deliver for patients" and is also investing £500m to boost the adult social care workforce.
Click to subscribe to the Sky News Daily wherever you get your podcasts
But the plans have been criticised by Labour, with shadow health secretary Wes Streeting saying: "Sticking plasters won't do".
"After 12 years of Conservative mismanagement, the NHS no longer has the staff it needs to treat patients on time, and nothing in this plan addresses the lack of doctors and nurses," he added.
"We need a government that will grip this crisis and deal with the root cause. The next Labour government will launch the biggest expansion of medical training in history."