Tributes pour in for Dame Angela Lansbury after her death aged 96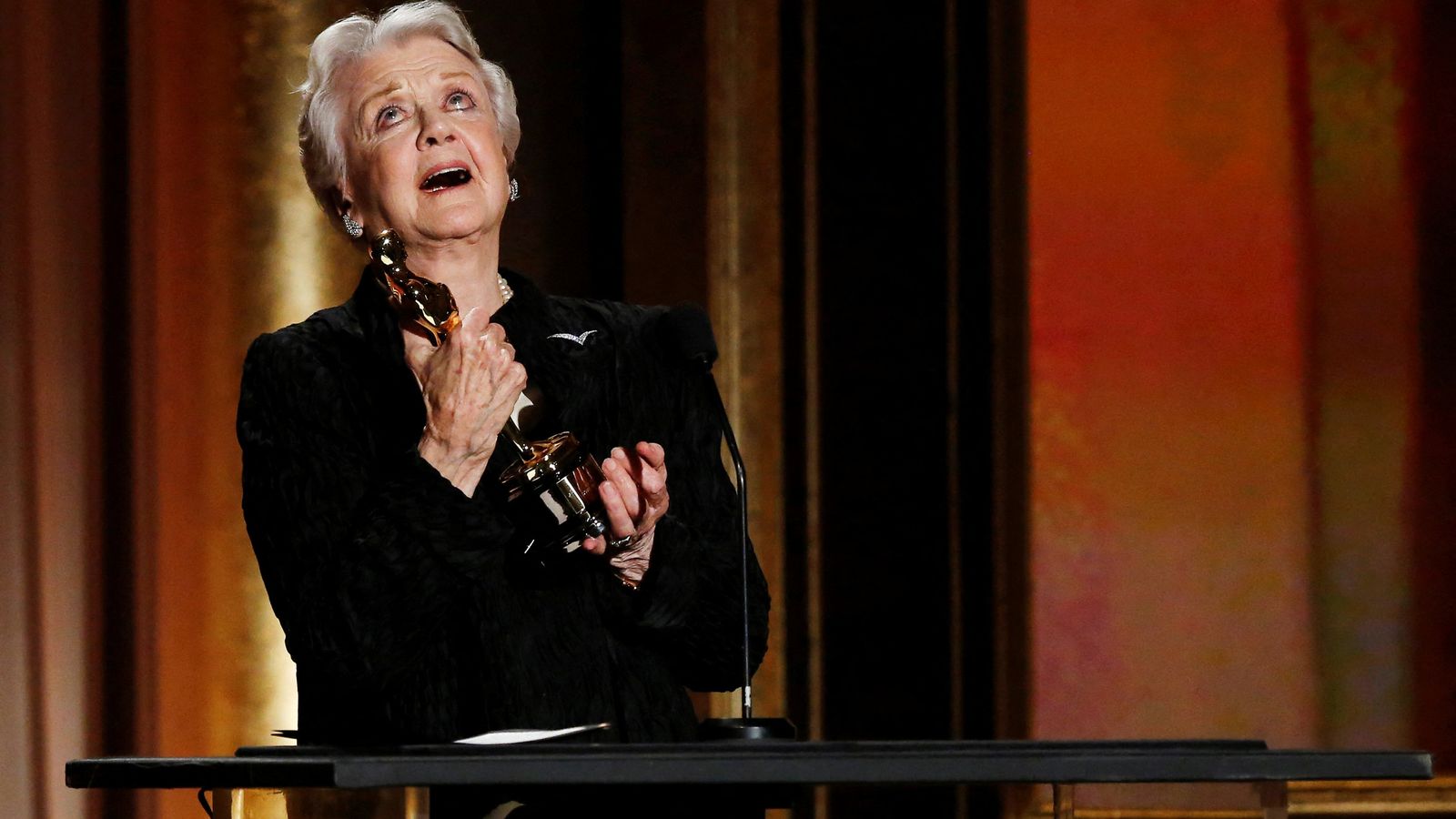 Tributes have been pouring in for Dame Angela Lansbury after her death at the age of 96.
The actress, who starred in TV drama Murder, She Wrote, died peacefully in her sleep at home in Los Angeles early on Tuesday, her family said.
Born in London, she won five Tony Awards for her Broadway performances, was nominated for three Oscars, and in 2013 she received an honorary Academy Award for her lifetime achievement in film.
Her death has been met by an outpouring of tributes and praise for her acting talent by stars from across the industry.
American actress and Orange Is the New Black star Uzo Aduba called her "an icon of the stage".
She tweeted: "She poured so much love into each of us.
"An icon of the stage, and legend across so many mediums but, we all knew…she was always one of us."
Frozen actor Josh Gad said that Dame Angela had "touched four generations" with her work.
"It is rare that one person can touch multiple generations, creating a breadth of work that defines decade after decade. Angela Lansbury was that artist," he wrote on Twitter.
Jason Alexander, who appeared in Seinfeld, praised her as "one of the most versatile, talented, graceful, kind, witty, wise, classy ladies I've ever met".
He added: "Her huge contribution to the arts and the world remains always."
Actor Harvey Fierstein tweeted: "Angela Lansbury – She, my darlings, was EVERYTHING!"
Catherine Zeta-Jones, who starred alongside Dame Angela in the Broadway musical A Little Night Music, said their time together will "forever be one of the joys of my life".
Disney Animation Studios tweeted: "We join the world in mourning Disney Legend Angela Lansbury, who brought such incredible warmth and personality to Mrs Potts in Beauty and the Beast. Her unforgettable performance will forever be a classic."
Playwright Paul Rudnick said Dame Angela "provided the most fabulous, irreplaceable joy" and was "beloved as a person and an actress, and managed to be approachable, glamorous and heartbreaking".
West End star Elaine Paige said Dame Angela was "one of the last Golden Age of Hollywood stars & a Broadway & West End icon".
Author Rebecca Makkai wrote: "A thing you should know: In September, 1987, Angela Lansbury headlined a show that packed the Chicago Theater with 2,400 people to raise money for AIDS research. It was the first major AIDS benefit in Chicago, and it raised $1 million."
Dame Angela's family links to senior politicians
Angela Lansbury, the grande dame of American TV crime drama, had close family links with senior British politicians, including top Tory Penny Mordaunt and a former Labour Party leader.
Dame Angela was the cousin of the grandmother of the Portsmouth North MP, who this year came close to making the final two in the race for the Tory leadership and is now Leader of the Commons.
But the Hollywood star was best known in political circles as the grand-daughter of George Lansbury, who was leader of the Labour Party from 1932 until 1935, when he was succeeded by Clement Attlee.
Dame Angela's father, Edgar Lansbury, was also a prominent politician and supporter of the Suffragettes. A member of both the Communist Party and the Labour Party, he was mayor of Poplar and was jailed over an illegal rates rebellion.
George Lansbury was first elected to Parliament in 1910, but resigned his seat in 1912 to campaign for women's suffrage – a cause Penny Mordaunt would have approved of – and he too was briefly imprisoned after publicly supporting militant action by the Suffragettes.
A Christian pacifist who was originally a radical Liberal, Lansbury became Labour leader with the party deeply split after the collapse of Ramsay MacDonald's National government, but he never fought a general election as party leader.
He was ousted after a defeat in a bruising showdown at the 1935 Labour conference with Ernest Bevin, then transport and general workers union leader and later a giant in the Attlee government, over defence policy and opposition to fascism.
"My grandfather was a very large figure in my life as a child," Dame Angela said in an interview in 1998. "He was an extraordinary individual who garnered the admiration and love of the British labour movement, which he led, and because he was the most charismatic figure, a very kind simple plain man. He never drank, he never smoked."
Further afield, former Australia prime minister Malcolm Turnbull has revealed that Dame Angela was his cousin.
In a tweet featuring a picture of the two at the theatre in Sydney, he wrote: "You first dazzled me when I was 4 & you were Aunty Angela making a movie in Australia.
"In later years we always had politics & showbiz to talk and laugh about. Rest in Peace dear Angie."