Truss and Kwarteng to meet fiscal watchdog today after MPs demand full economic forecast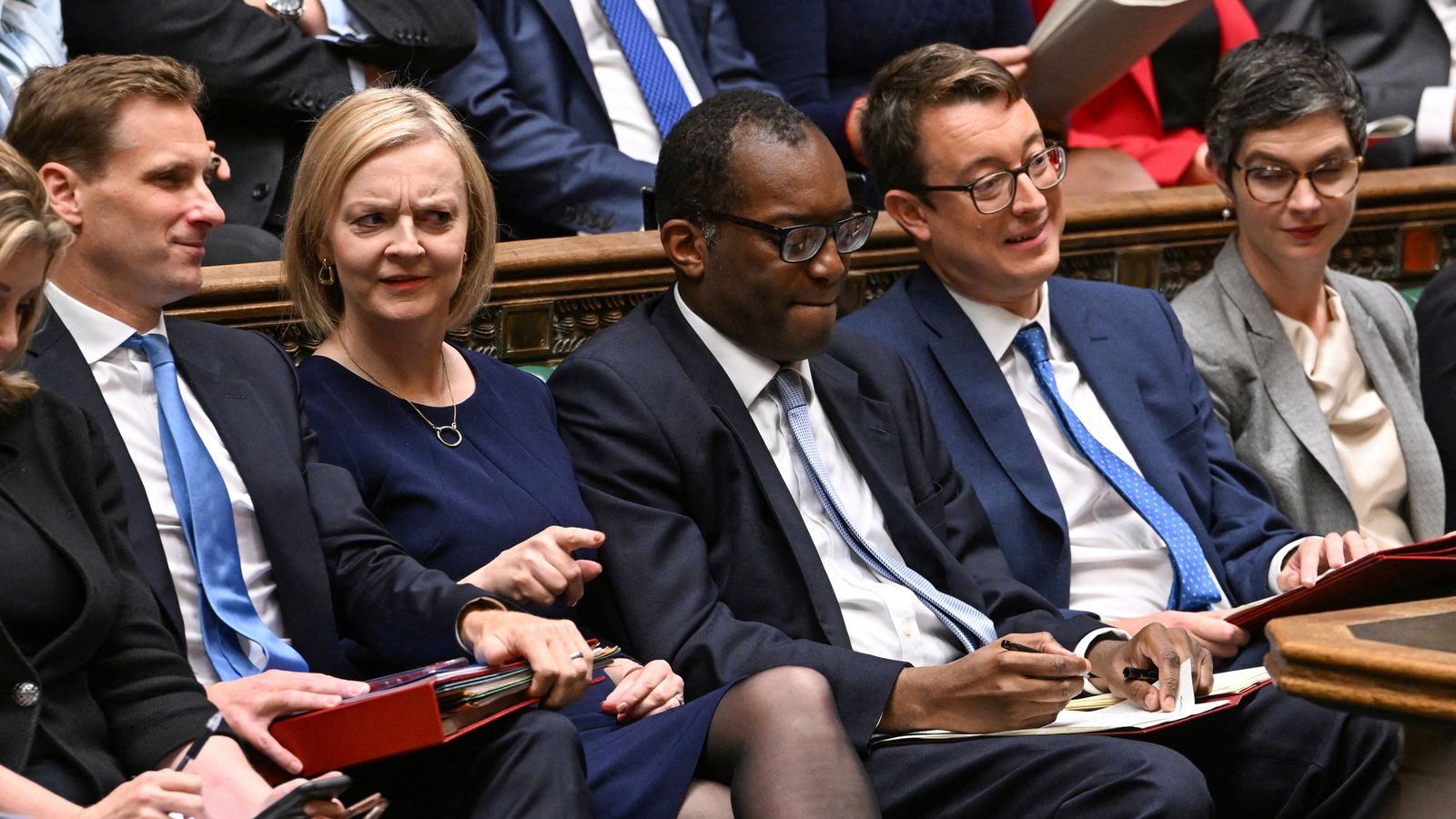 Liz Truss and Kwasi Kwarteng will meet the head of the UK's independent fiscal watchdog today amid the fall-out from the government's mini-budget.
The talks with the Office for Budget Responsibility (OBR) come after a week of economic turmoil following last Friday's announcements, which saw the pound plunge, mortgages rocked and pension funds needing to be saved.
It is highly unusual for a PM to attend an OBR meeting – which is usually held between the independent watchdog and the chancellor to discuss upcoming economic forecasts – but the Treasury has denied that this is an emergency measure.
Labour take biggest poll lead in decades – follow live updates
The OBR was set up by the government in 2010 to provide independent analysis of the UK's public finances.
Financial Secretary to the Treasury Andrew Griffith said it was "a very good idea" for the meeting to take place, but former Bank of England deputy governor Sir Charles Bean told Sky News "there is an element of closing the stable door after the horse has bolted".
Senior Tory blames mini-budget for turmoil


The news came hours after the Treasury Select Committee, made up of MPs from all parties, demanded that the chancellor release a full economic forecast from the OBR by the end of October.
He is also being urged to bring forward his medium-term budget from 23 November.
Mr Griffith hinted to Sky News that a report could come sooner, saying the independent OBR has "got to be given the freedom and ability to do that".
But, he added: "That's a decision for them. It's not for me or anyone else to dictate that to them."
Ms Truss and Mr Kwarteng have said they are still committed to their policies – and argue that a £45bn package of tax cuts is the "right plan" for the economy.
But Labour's shadow business secretary Jonathan Reynolds said the mini-budget was "without question one of the biggest unforced errors in policymaking in this country's history".
He reiterated the demand of his and other opposition parties to recall parliament and reverse the fiscal measures.
No independent OBR forecast accompanied last week's announcements – but the watchdog said it had prepared a draft for the new chancellor on his first day in office.
The absence of this forecast reportedly contributed to concerns in the City.
Mr Griffith insisted a forecast last Friday would not have been able to "reflect [the] economic growth in their numbers" that he claimed would come from government policies, as the measures would have been "finalised in the hours before the chancellor stood up".
But Mel Stride, Conservative chair of the Treasury Select Committee, had said in his letter to the chancellor it is "hard to conclude other than that an absence of a forecast has in some part driven the lack of confidence in markets".
He added: "Some have formed the unfortunate impression that the government may be seeking to avoid scrutiny, possibly on account of expecting the OBR forecast to be unsupportive of the achievement of the economic outcomes the government expects from the Growth Plan, including 2.5% trend growth in the medium term."
Sir Charles agreed, saying the lack of forecast was "clearly one of the factors that is contributing to the market turmoil".
Chancellor 'sticking with growth plan'


Mr Kwarteng had said the forecast would be released on 23 November – but after last Friday's mini-budget caused economic turmoil, the committee discovered the chancellor will be getting an initial OBR forecast on 7 October.
They asked him to publish "without delay" the initial economic and fiscal forecast the OBR provided to him when he started the job a few weeks ago.
A reply from the chancellor has been requested for no later than Monday.
Mr Stride also expressed frustration in his letter at having pressed Mr Kwarteng and his predecessor Nadhim Zahawi to publish an OBR forecast before the mini-budget and said the OBR had assured him on 26 August that it could produce a forecast to that timescale and had already been working on it for a month.
"The OBR was standing by ready to provide a meaningful forecast alongside the 23 September statement had the Treasury requested it. No such request was received," Mr Stride said.
Mr Stride said he was pleased to see the OBR meeting happening.
"The PM and the chancellor must use this meeting as a reset moment – an opportunity to urgently bring forward the OBR forecast incorporating credible new fiscal rules and a plan which the OBR assesses as having a good chance of meeting them.
"Then we can all take a deep breath and start to move forward with greater confidence."
Read more:
Kwasi Kwarteng insists government 'protecting people across UK'
Government minister admits tax cuts benefit wealthiest
Subscribe to the Daily podcast on?Apple Podcasts,? Google Podcasts,? Spotify, Spreaker
The senior Tory told Sky News' Daily Podcast earlier on Thursday: "Many colleagues are very concerned, and I think that's totally unsurprising.
"I mean, I can speak for myself. I'm on the record as saying that I think if we're not very careful, then our position as being the party of sound money and economic responsibility, fiscal responsibility, may be in jeopardy."
Mr Stride added that he did not think it was incompetence that caused the current problems and suspects "some of those involved have been taken slightly by surprise how quickly the markets turned" but he thinks publishing an OBR forecast would be central to calming the markets by "demonstrating credibility".
A YouGov poll for The Times shows Labour has opened up a massive 33-point lead over the Conservatives.
Tory MP Sir Charles Walker admitted his party would be "wiped out" if an election was called tomorrow – and "would cease to exist as a functioning political party".
Mr Griffith tried to urge calm within his party, telling Sky News: "This is a difficult time for all developed economies and for all governments. This is a government that's taken decisive steps to deal with the immediate energy crisis."
But former Bank of England top brass Sir Charles took issue with the government's focus on energy bills and the war in Ukraine, saying: "If all the government had announced last Friday was the energy price guarantee… I don't think there would have been a problem with there not being an accompanying forecast because those support measures are intended to be temporary and will be self-terminating when wholesale energy prices fall back.
"The thing that created the problem, in my view, was the fact alongside that the chancellor chose to announce the rolling back of National Insurance increases and the slated increase in corporate taxes… and those are intended to be permanent, so they potentially have implications for the sustainability of the public finances."